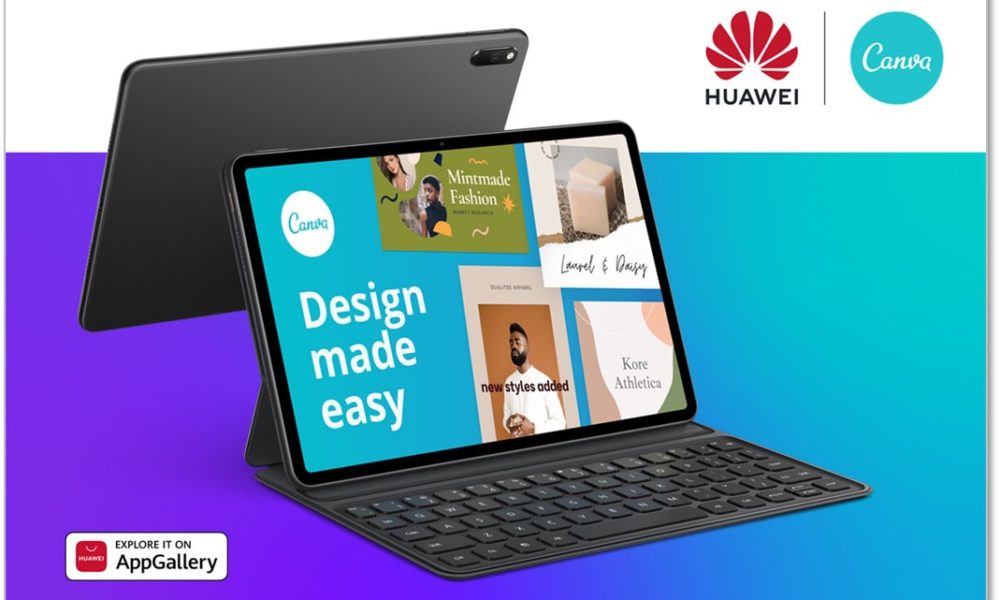 Huawei today announced that HUAWEI AppGallery has partnered with the world's fastest-growing online design platform, Canva, to help make graphic design more accessible to its customers. Available on Huawei's new and exciting MatePad Series, including the recently launched MatePad 11 and two more devices set to come soon, Canva will now come preinstalled via AppGallery providing users with a full suite of free and innovative graphic tools.
Creativity at your fingertips
With a staggering 55 million monthly active users, Canva has firmly cemented itself as the go-to creativity hub for professionals and beginners alike. Designed for people and teams wanting to create absolutely anything, from logos and social media content to documents, prints and more, Canva offers users thousands of professional templates, images and quality content to choose from, helping them get a head-start on bringing their visions to life.
Completely free to use, with the option of paid-for Canva Pro, the app enables users to have an easy, drag-and-drop user experience, so even if they're a creative superstar or design novice, they can still create amazing content. Exclusive for Huawei users, AppGallery will now provide the app preloaded via the 'Top Apps' folder on select HUAWEI MatePads, so users can let their creative juices flow as soon as they open their new device.
Devices built to empower artistry
Available now and preloaded with Canva, the HUAWEI MatePad 11, perfectly complements the design app and is built to be the all-around creativity assistant. Featuring a stunning, 10.95inch, 2.5K HD FullView Display, users can see their Canva works of art come to life thanks to the immersive screen in crystal-clear clarity. Plus, equipped with 128GB of storage, all Canva creations can easily be stored on the device.
Peter Gauden, Head of WEU EcoSystem Marketing, said: "At Huawei, we are committed to bringing the biggest and best apps and services to AppGallery for our 42 million monthly users across Europe. With the launch of this new collaboration with Canva, we are delighted that we can help make industry-leading graphic tools more accessible to our creative-minded users. Together with our innovative MatePad Series, Canva can enable users to bring their graphic creations to life, both freely and passionately."
Commenting on the collaboration, Kate Marsden, Canva Partnership Marketing Lead, said, "This collaboration is another example of how we're democratising design. We're excited to reach even more creators through Huawei's AppGallery and it takes us another step closer to achieving our goal of empowering the whole world to design."
With 42 million monthly active AppGallery users in Europe alone, and 5 million new app users every month, AppGallery is one of the top three app marketplaces in the world