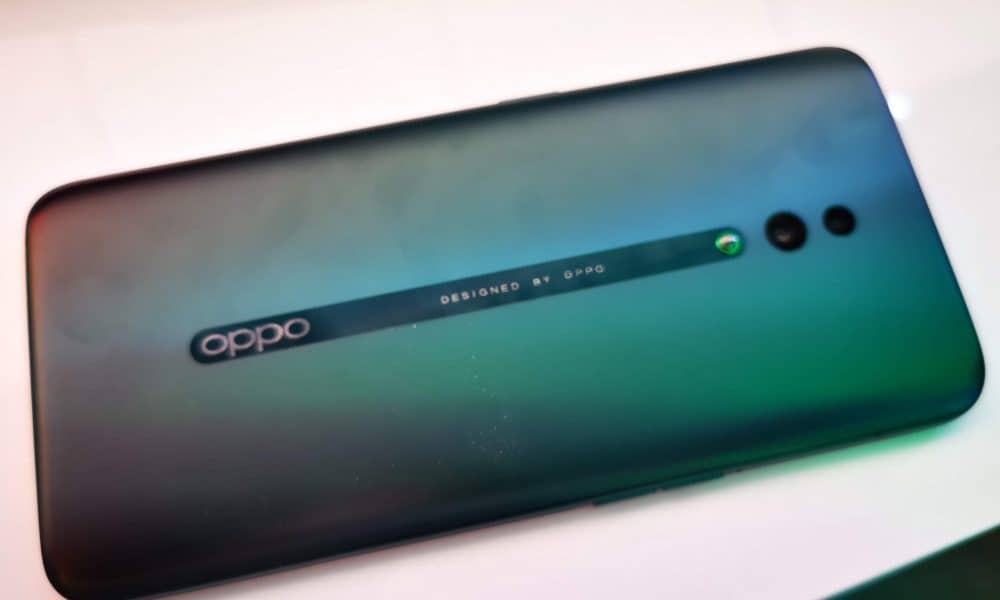 OPPO recently celebrated announce the UK launch of its new Reno smartphone series and kicked off its global campaign for the ICC Men's Cricket World Cup 2019, encouraging fans around the world to Be a Shot Maker. 
As Global Partner of the International Cricket Council (ICC), OPPO hosted an exclusive event held at Tobacco Docks, East London where Jos Buttler, Vice-Captain of the England cricket team appeared on stage to mark the celebration as the face of the campaign. The event saw exclusive guests enjoy a cricket masterclass with Buttler and former England Captain Sir Alastair Cook in a pop-up pitch experience zone.
Fans across the world will be able to join in the campaign by recording and sharing exciting moments from the games whether at home or attending the tournament live in London. OPPO will publish daily highlights of ICC matches as shot on the Reno series, providing users with an opportunity to display their creativity.
The event also marked the official launch of the much anticipated OPPO Reno Series in the UK following its successful debut in Europe just last month. Users will be able to choose from three devices, including the Reno 5G, which will be available with EE, powered by Qualcomm.
Alen Wu, OPPO President of International Business commented: "As a longstanding ICC global partner, we are proud to be a part of the Men's Cricket World Cup 2019 and our campaign is the perfect expression of OPPO's creativity and spirit. Be a Shot Maker is about risk-taking and taking chances – as a sportsperson, as a photographer and as a fan, and we believe that our new range of devices will take fan-generated content to new heights. OPPO Reno is an integral part of our global growth strategy and serves as the catalyst for the future of OPPO's smartphone development."
Sharon Meadows, Director of Devices, Partnerships & Business Development, EE, said: "EE customers with an OPPO Reno 5G will be able to get the most from our new super-fast, high capacity 5G network. Whether they are watching high definition video, trying out AR experiences or gaming with their friends, the Reno 5G will let them tap into the game-changing speeds and connectivity that 5G will bring.
During the event, attendees were also able to get hands-on with the phones with their unique Pivot-Rising Camera design, powerful 10x Hybrid Zoom and panoramic screen. The concept for Reno was inspired by creativity, spontaneity and youthful spirit, which OPPO brings to life through breakthrough technology and bespoke design.
Both the Reno 10x Zoom and Reno 5G are equipped with the Qualcomm Snapdragon 855 platform and OPPO's 10x hybrid zoom technology to provide users with extraordinary photography experience. Reno 5G will be available on the EE 5G network and will bring consumers an unprecedented experience in cloud games, AR, and VR.
The OPPO Reno handset retails at £499 and the OPPO Reno 10x Zoom is priced at £699. Both devices will be available to pre-order with Carphone Warehouse now and will be on sale in-store and online from 5th June for Reno and 12th June for Reno 10x Zoom. The Reno 5G in ocean green will be available with EE, pricing and availability will be announced shortly.
Neil You, OPPO UK Managing Director: "We are thrilled to bring our latest devices to the UK in time for our campaign with the ICC, kicking off a very exciting summer of sport. The dedication of our partners at Qualcomm, EE and Carphone Warehouse has made today possible and shows the UK how committed we are at ensuring we deliver the latest and best possible experience in smartphone technology and design.
"Our collaboration with the ICC also marks another exciting milestone for us here in the UK and really encapsulates OPPO's spirit and commitment to working together to create unique and memorable experiences for people. Sports photography is one of the hardest photography genres out there to capture. We believe that with the OPPO Reno, everyone can capture the full of intensity of the game and create their own iconic sports stories."
The Reno series is available in three models: Reno 5G, Reno 10x Zoom and Reno and will be available in two new gradient colours:  Ocean Green and Jet Black.  The Reno series unified design delivers a naturally sleek and seamless silhouette, with a smooth surface against the back cover for a premium look.
BEYOND AESTHETICS
The Reno series stands out with its unique pivot rising camera, combining design, functionality and technology. This innovation hides the front camera, earpiece and flashlights inside the pivot structure to allow a beautiful simplified full screen. It only takes 0.8 seconds to complete the entire pivot rising and display the front camera at an 11-degree angle.
The pivot rising structure has passed strict quality testing standards and can be used more than 200,000 times successfully. If the camera is opened roughly 100 times per day, the structure remains operational over 5 years of usage. Furthermore, the drop protection mechanism can sense in real time when the phone is in free-fall, and will automatically retract the camera to prevent any damage.
Reno uses a Corning Gorilla 5.0 back glass and is the first OPPO series to feature the ceramic gem, O-dot on the back of the smartphone. Designed to gently lift the phone when placed on a flat surface to protect the lenses from direct contact with the surface. All models of the series come with the 6th generation of the Corning Gorilla Glass to ensure durability and protection of the front screen.
The OPPO Reno 5G and Reno 10x Zoom feature a 6.6-inch OLED screen (6.4-inch screen for Reno), with a resolution of 2340×1080 pixels, an aspect ratio of 19.5:9 and an extremely thin bezel. These design features provide a screen-to-body ratio of up to 93.1%, completely notch-less. To create this new panoramic screen, OPPO pushed the boundaries in design to provide users with stunning visuals and the best viewing experience while watching videos, playing games or taking photos.
BEYOND PHOTOGRAPHY
With Reno, the photography capabilities have been designed and engineered to create a truly great camera that assists users to capture every moment.
10x Hybrid Zoom: Reno 10x Zoom has developed a triple-camera solution consisting of 48MP HD primary lens + 8MP Ultra-Wide Angle + 13MP Telephoto", achieving incredible high-quality long-distance shots. All three cameras operate in tandem to maximise their respective advantages and optimise image quality at various zoom ranges to achieve the 10x Hybrid Zoom. Besides, the Reno 10x Zoom uses dual optical image stabilisation (OIS) for the main camera to ensure high-quality photos at any given moment
A 48MP rear camera and 16MP AI beauty front camera: The primary lens of the Reno series features the Sony IMX586 sensor, with a 48MP ultra-pixel camera, 4-in-1 resolution focusing in low-light scenarios, an F1.7 large aperture, and a laser detection autofocus. The OPPO Reno series comes with a 16MP front camera, with an F2.0 aperture and uses a customised algorithm to correct light effects to adjust to every skin colour and make selfies look more natural, especially in low-light conditions
Ultra-Night Mode 2.0: leverage AI, HDR, and multi-frame noise reduction to achieve effects such as noise reduction, handheld stabilization and highlight suppression and dynamic range. Enabling users to achieve the level of brightness and details that normally exceed the limits of human eyes. Another key feature is face protection, allowing you to take a night portrait. The camera automatically distinguishes a human face from the background and ensures that the skin colour is enhanced
4K video and Audio Focus: supports shooting 4K videos up to 60 fps. It is capable of capturing a clear and stable picture via OIS. The Audio Focus technology uses multiple microphones from the phone to record the surrounding sounds from 360°. This technology is paired with stereo speakers and Dolby Atmos to offer a portable movie theatre on the go
BEYOND POWER AND PERFORMANCE
Both Reno 5G and 10x Zoom are powered by the Qualcomm Snapdragon 855 Mobile Platform, which is the first System on Chip (SOC) from Qualcomm able to be paired with a 5G modem. The Reno model is powered by the Snapdragon 710 chipset and ensures a smooth experience with a top-level hardware configuration.
To support all of these performance upgrades, Reno has been built with a powerful battery for users to enjoy the device at any time of the day and night. OPPO's flash charging technology has stepped up to become VOOC flash charge 3.0. This new technology can maintain high voltage during trickle charging and allow longer battery life cycles. Reno 5G and 10x Zoom come with a 4065mAh battery, one of the most powerful batteries in an OPPO phone to hit the market.
The OPPO Reno series runs with ColorOS 6, a new custom UI based on Android P (Android 9.0) featuring a brand new visual design using gradient colours to create a light, elegant and more natural transitions. ColorOS 6 also improves the Smart and Game Assistant, the Navigation Bar and the Smart System management which intelligently stops the apps that haven't been used for a while to optimise the battery life.
BEYOND CONNECTIVITY
OPPO has been preparing for the anticipated arrival of 5G since 2015 and has invested in design and technology to ensure the production of a desirable phone. Today, OPPO made an important step towards making 5G a reality by introducing Reno as the first commercialised 5G phone, as part of the OPPO 5G Landing Project. This project is a partnership and commitment in which OPPO has brought together five carriers partners – Swisscom, EE, SingTel, Telstra and Optus – to work together to be one of the first smartphone providers to launch both a 5G enabled smartphone and a working 5G network later this year.