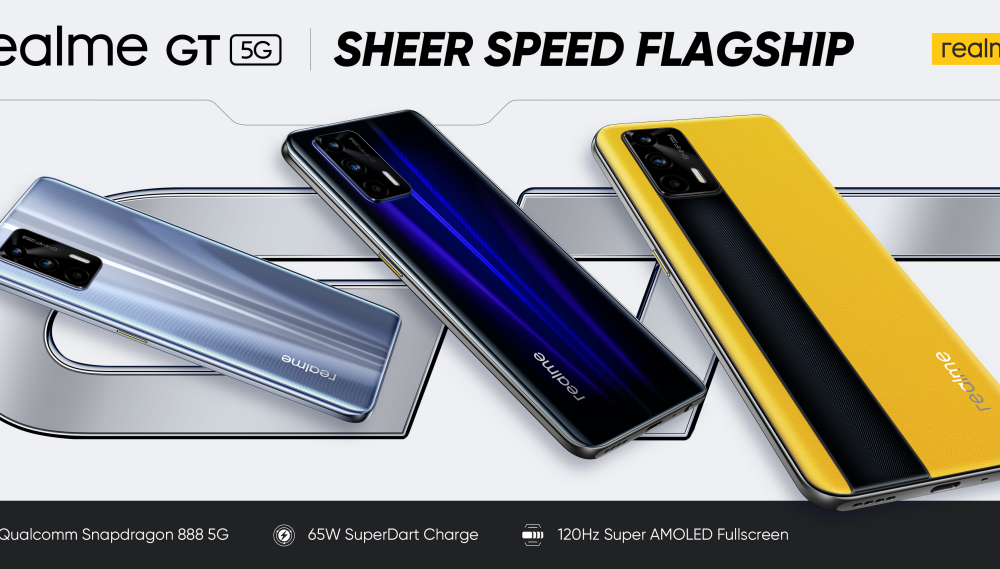 realme has just launched its highly-anticipated 2021 flagship killer smartphone – realme GT. realme GT features a Qualcomm Snapdragon 888 5G processor, 120Hz Super AMOLED Fullscreen, 65W SuperDart Charge, and more. The flagship killer delivers a high-quality experience with two key features; thunderous power and sustained performance; setting new industry standards for the mid-to-high-end flagship phone segment. realme GT 8GB+128GB will be priced at €449 with an early-bird special promotion of €369, on sale from June 21st at Ali Express. realme GT 12GB+256GB will be priced at €599 with an early-bird special promotion of €499, on sale during Amazon Prime Day.
realme GT: 2021 flagship killer
realme aims to disrupt the mid-to-high-end phone segment with the launch of realme GT. By offering the maximum number of flagship features for budget-minded consumers, realme GT reflects the smartphone brand's commitment to making cutting-edge technology more accessible to young consumers.
realme GT is equipped with the Qualcomm Snapdragon 888, the most sophisticated chip, delivering the ultimate flagship-grade performance for users. Leveraging the most advanced 5nm processing technology, the Qualcomm Snapdragon 888 chip improves realme GT's performance and AI computing power. Together with a stronger and larger Cortex-X1 core and three new-generation high-performing A78 cores, the phone's CPU performance has increased by 20% and power consumption reduced by 50% compared with the previous generation.

realme GT features a 6.43-inch 120Hz Samsung Super AMOLED display capable of providing high responsiveness required by gamers and a new generation stainless steel VC cooling system to optimize the phone's heat dissipation structure, which plays an essential role in the phone's durable peak performance. Furthermore, realme GT delivers a large 4,500 mAh battery and 65W SuperDart charging support, allowing the phone to be fully charged in just 35 minutes.
Other key features include:
Dual Light Sensors – Front and rear dual light sensors provide 4,096 auto-brightness levels.
Greater Connectivity – In addition to the major 5G bands, the realme GT supports the industry's fastest Wi-Fi and latest Bluetooth technologies.
Flagship Camera – The realme GT boasts a Sony 64MP triple camera with a brand-new night portrait mode and AI capabilities to deliver professional-grade photos.
Immersive Audio – The smartphone has Dolby Atmos Dual Stereo speakers, Hi-Res Audio, and a 3.5mm audio jack with low latency and low interference charge.
Operating System – The realme GT is one of the first devices to support the Android 12 Beta 1. realme will continue it's Android 12 Developer Preview Program to compile users' feedback before launching the new realme UI later this year.
Exclusive GT Mode – Only available in the realme GT series, the GT Mode is created for users who want the ultimate performance. This includes full-scene high-performance mode coverage and further optimization of high-frame-rate gaming, all providing a smooth user experience and a more durable and stable high frame rate gaming experience.
Speed-inspired aesthetics – Based on the core concept of grand tourers (GT) sports cars, the realme GT phone series offers a glass-covered design – Dashing Silver and Dashing Blue – with a 3D light-reflecting pattern on the back plus a vegan-leather – Racing Yellow, along with ultra-thin body weighing less than 186g.
Pricing and availability
realme GT 8GB+128GB will be priced at €449 with an early-bird special promotion of €369, on sale from June 21st via Ali Express. realme GT 12GB+256GB will be priced at €599 with an early-bird special promotion of €499 available from June 21st to all consumers during Amazon Prime Day.
realme expands its AIoT offering – introducing Watch 2, Watch 2 Pro, and TechLife Robot Vaccum
realme also announces the launch of three new AIoT products – the realme watch 2 & 2 Pro and the realme TechLife Robot Vacuum – as part of an accelerated AIoT product strategy for the next five years.
Building on the massive success of the realme watch, the realme watch 2 Pro delivers powerful upgrades in functionality, display, and other user experience features. With an upgraded 1.75-inch (4.4 cm) large colour display, the new watch boasts a 56% larger screen viewing area than the previous generation. The display also features a remarkably high resolution of 320×385 pixels and a peak brightness of 600 nits, which delivers visuals 58% brighter than the previous generation. It includes various sporting features like an accurate GPS system, a SpO2 Monitor that tracks blood oxygen saturation levels, a heart rate detection monitor, and a total of 90 sports modes (an increase from the original 16 modes). The watch can deliver 14 days of battery life with its 390mAh high-efficiency battery so users can exercise all day without missing a beat. realme's watch 2 Pro offers over 100 different curated watch faces for users to choose from, allowing them to express their unique personality and style.
Another member of the realme smartwatch is the realme watch 2. It has almost everything about the realme watch 2 Pro, from the ultra-bright 600 nits display to the 90 sports modes support, all packed in a smaller form size of 1.4" colour display. The realme Watch 2 Pro is priced at £69.99 and the realme Watch 2 is priced at £49.99, available at realme.com/uk and Amazon UK from 16th June.
In addition, realme introduces the first device offered under TechLife – the Robot Vacuum – which is the company's most advanced smart home product to date with 38 built-in sensors that serve a multitude of functions to help the vacuum clean smartly. Capable of fast and accurate real-time navigation and precise in-app room mapping, the latest LiDAR technology can improve the accuracy of up to 12% when compared to previous LiDAR generations. By completing 360-degree laser scans per second, the Robot Vacuum can judge relative positions at an impressive accuracy rate of up to 98%. realme TechLife Robot Vacuum also delivers a super-high suction and mopping power of 3000Pa, capable of cleaning large amounts of high-density garbage while keeping noise levels as low as 55dB on a quiet mode. It also features a 5200mAh battery, a 600ml dust bin and a 300ml smart electronic water tank, ensuring that users do not have to constantly charge and empty the vacuum during cleaning. realme TechLife Robot Vacuum is priced from 299 euro, available on AliExpress from 16th June.
More to come
During the event, realme also offered a sneak peek into its first tablet, the realme Pad and first laptop, the realme Book, which will be launched in the coming months.  realme also announces a co-creation programme to create realme Book with fans together.