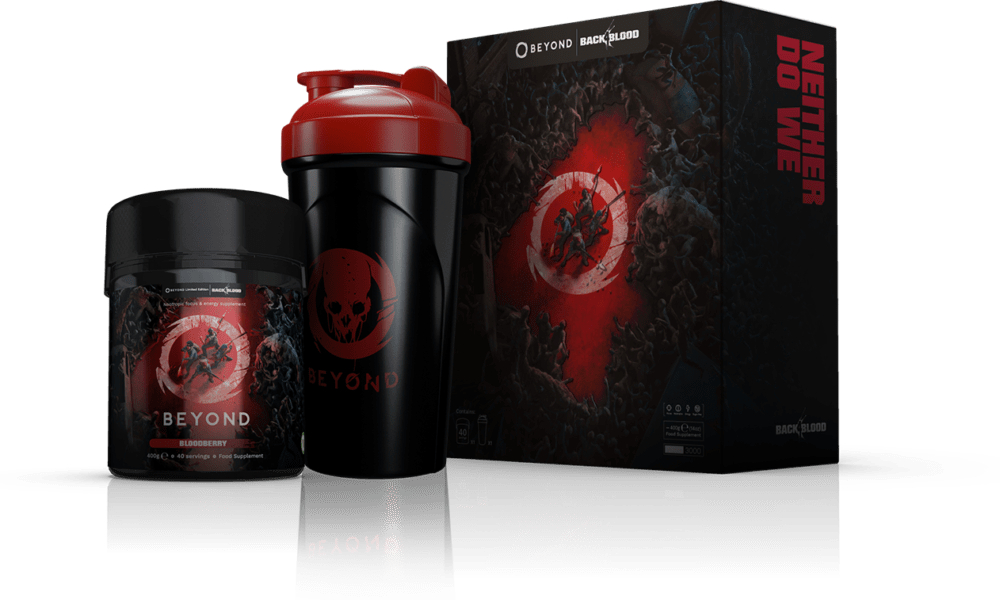 Warner Bros has teamed up with UK based BEYOND NRG to create the official drink for their long-awaited launch of BACK 4 BLOOD. The game, from creators Turtle Rock Studios, known for the Left 4 Dead franchise, will see players at the centre of the war against the Ridden.
In steps BEYOND NRG – with their fantastic new aptly named limited-edition flavour, 'Bloodberry'. The gaming health supplement, which uses a special combination of nootropics, vitamins and natural green caffeine to give users a healthy boost of focus and energy, has taken the gaming community by storm, with this being the brand's second Warner Bros. partnership in less than a year. The first 250 packs will get a limited-edition Back4Blood Patch and 500 entries into our competition to win an MSI PC.
Beyond NRG x Back4Blood: Bloodberry is available online at www.beyondnrg.com and is sold in a Collector's Edition Pack including a 400g tub and 700ml Shaker at £38.99
Beyond NRG has a distinctive nootropic stack that contains a series of natural ingredients that are known to improve blood flow, enhance cognitive function, reduce stress and relieve anxiety. They have included these nootropics at a significantly higher level than in other energy drinks, so you get the maximum benefit from these next-gen ingredients.
Beyond NRG's energy boasts a unique ingredient – Coffeine. A naturally-derived caffeine extract from green coffee beans that outrivals synthetic caffeine. This is a better source of energy for gamers than the likes of 'Taurine' – which is more suited to physical activity. The Beyond NRG experts have carefully selected a choice of energy ingredients that has been optimised to work in sync with the nootropic stack, to create the ultimate gaming energy drink.
The Beyond NRG formula also contains essential vitamins and minerals that form part of our recommended daily intake. This combination has been crafted to support the needs of the 'everyday' gamer. Two scoops of Beyond NRG is all it takes to supplement the vitamins you may be lacking, through long periods of gaming.
All Beyond NRG products are sugar-free, have less than 20 calories per serving, contain no artificial colours and are suitable for vegetarians.