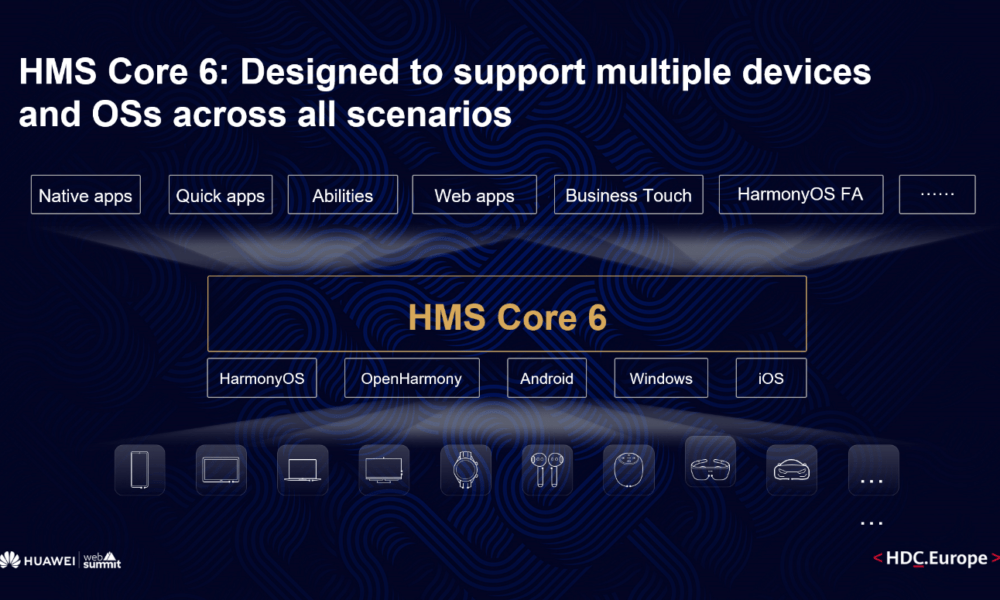 HUAWEI Mobile Services (HMS), part of Huawei, kicked off its annual flagship Developer Conference (HDC.Europe) today at the prestigious Web Summit 21. Gathering over 300+ developers and business leaders, together they'll be discussing HUAWEI Mobile Services' recent business developments, exciting services updates and growing support for innovation in the industry.
2021 sees exciting new partnerships
Last year's event marked the arrival of key European businesses such as HMS Connect and HUAWEI Ads – and this year is no different. 2021 sees Huawei celebrate existing and new partnerships with leading brands coming together to showcase their visions and thought leadership across a series of workshops, alongside showcasing new collaborations covering all-scenario application innovation.
Jervis Su, Vice President of Mobile Services, Huawei Consumer Business Group commented, "Innovation is key to building ecosystems of the future and Huawei is committed to bringing together our capabilities with the powerful minds of developers, to accelerate our journey towards an interconnected, all-scenario future."
Industry leading ecosystem
HUAWEI Mobile Services has continued to solidify its position over the last few months as the third-largest global mobile ecosystem, helping 5.1 million registered developers connect with over 730 million monthly active users (MAU) around the world.
Since its global launch in 2018, HUAWEI AppGallery has reached over 560 million global MAU, including 42 million in Europe. In the first three quarters of this year, AppGallery distributed over 332.2 billion applications worldwide, a staggering 13% increase year-on-year. The revenue share to partners also increased 62% in comparison to last year.
New kits to support developer creativity
The newly launched HMS Core 6 has announced new developer kits to help them support the creation of more competitive functions for their apps – a total of 69 Kits and 21,738 APIs. The full range of HMS Core capabilities empowers developers to create quality apps with its intelligent, contextual and scenario-based solutions across multiple smart devices including smartphones, tablets, smart TVs, wearables and audio products.
These open capabilities can also be used to create apps running on Android, HarmonyOS and iOS by using cross-platform development frameworks such as React Native and Cordova. By the end of Q3 2021, there were over 173,000 HMS Core integrated applications on AppGallery, a remarkable 81% year-on-year increase.
A continually growing Petal family, evolving for consumer needs
A popular app series within HUAWEI Mobile Services is "Petal", including Petal Search, Petal Maps and more – all of which have attracted thousands of partners from shopping, nearby, travel and more verticals since their creation. As key apps and the basic engine of the HMS Ecosystem, all are due to receive an impressive range of updates over the coming months.
Petal Search 2.0 will be the next-generation AI multi-modal search engine, offering an innovative search experience in over 20 different industries including news, videos, shopping, flights, local businesses and more. With Search as a Service, Huawei fully opens Petal Search capabilities through the device-side SDK and cloud-side APIs, enabling ecosystem partners to quickly provide the optimal mobile app search experience. With an average of 8 billion searches per day, Petal Search allows partners to efficiently distribute content to users through Huawei's proprietary UniBox platform.
From a travel perspective, Petal Maps, which is available in over 166 countries and regions, and was also recently the recipient of a prestigious Red Dot Design Award, now has an estimated 20 global MAU. The latest Petal Maps upgrade will see the platform equipped with even more capabilities, including high-precision positioning, topographic map display, diversified map interactive experiences, in-depth data search, high-quality lane-level guidance and Map Studio. All of which ultimately provide the end-user with a truly interactive and informative navigational experience.
Huawei Ads, an agency conscious partnership program across Europe
HUAWEI Ads is a real-time advertising marketplace tailored for Huawei devices, which is now open to media agencies and app publishers worldwide. The platform incorporates the HUAWEI Ads publisher service, which allows developers to integrate the HUAWEI Ads kit and generate additional revenue from their apps.
The platform gives advertisers the ability to choose placements across Huawei's ecosystem, including direct placements on devices, custom placements on AppGallery, as well as new search ads on Petal Search and displays ads across Huawei apps and thousands of third-party apps.
HUAWEI Ads platform supports both OAID and GAID for tracking, which helps publishers and advertisers to reach Huawei smartphone users who are on HMS. Tools like Smart Bidding and Smart Banner, along with one-click installation links, gives advertisers increased controls and production capabilities to maximise their return on investment.
Since its launch in January 2020, HUAWEI Ads's daily traffic has now reached over 600M in Europe and has also been listed as one of the fastest-growing platforms in Western Europe according to AppsFlyer's latest report.
HUAWEI Ads also offers partners an incentive program, including a free trial amount, early-bird incentives and premium on-device media resources for direct advertisers and certified agencies in Europe.
An expanding ecosystem of premium brand partners
During the HDC.Europe workshop session, partners including European Adidas Runtastic, Curve and Lydia will take to the stage to share their vision and plans for distributing exclusive content and services to Huawei users. These partners are a key part of Huawei's evolving mobile ecosystem that focuses on user experience, fueling the development of new innovations and accelerating the digital economy.
Speaking from Runtastic, Mohammad Chegini, Head of API Product, will discuss how its app, used by more than 170 million avid runners, taps into Huawei's innovative ecosystem to deliver interactive interfaces that enable accurate and convenient experiences to consumers. Also, coming off the back of a successful virtual run campaign with AppGallery in early October, Runtastic is set to launch more exciting virtual events in the coming months.
Similarly, Nancy Yaffa, Vice President of Business Development at Curve, will discuss how the next generation, one-of-kind, money super-app, is providing HMS users with an innovative app that meets their need for digital payments.
A commitment to Europe and innovation
Huawei also reaffirmed its commitment to the cooperation spirit across all areas of technical innovation by announcing multiple support programs that will be offered in Europe to individual developers, including Huawei Student Developer (HSD) and Huawei Developer Group (HDG). These communities thrive on sharing knowledge of emerging technologies and seek to support fellow developers in their creation of new and innovative apps.
"At Huawei, we are always striving to create a better future for our consumers. So, it is an absolute privilege to welcome our new partners to help create this, while continuing to strengthen our collaborations with our existing ones", says Dr. Jaime Gonzalo, Vice President of Mobile Services Europe, Huawei Consumer Business Group. "These partnerships enable the growth of Huawei services, helping us to offer users a constantly refreshed, exciting and personalised experience. Together, we will continue to build a global, open and intelligent ecosystem – the foundation of tomorrow's digital lifestyle."