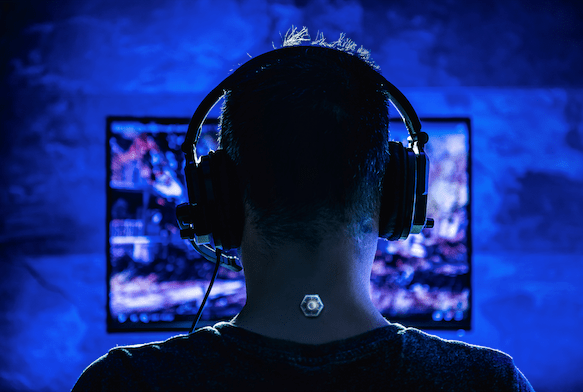 Gaming energy drink specialist Beyond NRG has announced the official trials of The Beyond Chip. A true breakthrough in gaming technology, this device is non-intrusive and capable of radically altering visual attentional processing in the brain. Excitingly, the initial studies have shown an increase in the processing power of the dorsolateral prefrontal cortex (the region associated with making decisions) of up to 32%.
Until now, not a lot of research has been carried out on the effects of gameplay on the human brain, but the use of neuroimaging to observe brain activity in real-time has enabled Beyond NRG to learn how to mobilise specific regions of the organ using micro frequencies.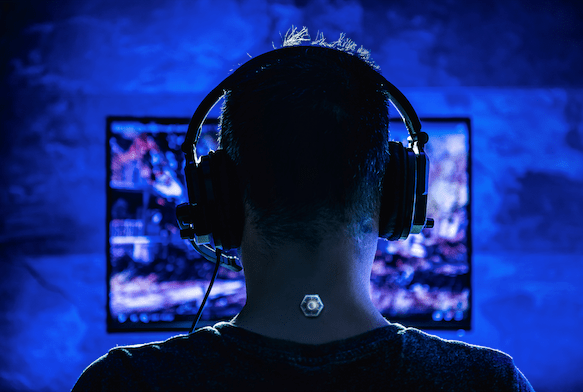 The Beyond Chip stimulates the suboccipital trigger point using harmless interferential currents (IFT). This process is similar to that used when releasing tension in the brain commonly associated with headaches. The initial research shows that this can assist with the regulation of dopamine in the brain whilst gaming, maximising cortical processing power, and forebrain system specialisation. This enables the brain to process differently, and act more selectively.
Information is transmitted from the device to an external receiver, which takes care of the additional processing. It calculates the intensity of the gameplay and responds with the effective frequencies to achieve optimum performance.
The Beyond Chip is placed on the back of the neck, using a dermatologically tested adhesive. It creates a strong bond to your skin but can be removed with ease using an alcohol-based removal solution. One of our trained professionals will be on hand to assist with installation and removal during the trial.
The trials will begin on the 28th of May 2021. They are looking for 500 applicants to test the device so that the second phase of trials can begin in 2022. All those involved in the first trial are automatically invited to the second phase. This technology is not new, it's been used by chiropractors/osteopaths for many years. Beyond NRG focus has been to repurpose this technology for use in gameplay, and internal human trials have been carried out over the past two years.
The 2021 trial application is now open, to be part of the next generation of gamers!  All successful applicants will receive The Beyond Chip two weeks prior to the commencement of the trial and will automatically receive a voucher to purchase the final product upon general release.
To register your interest, enter your details here and a representative will be in touch within the next week to complete your full application.