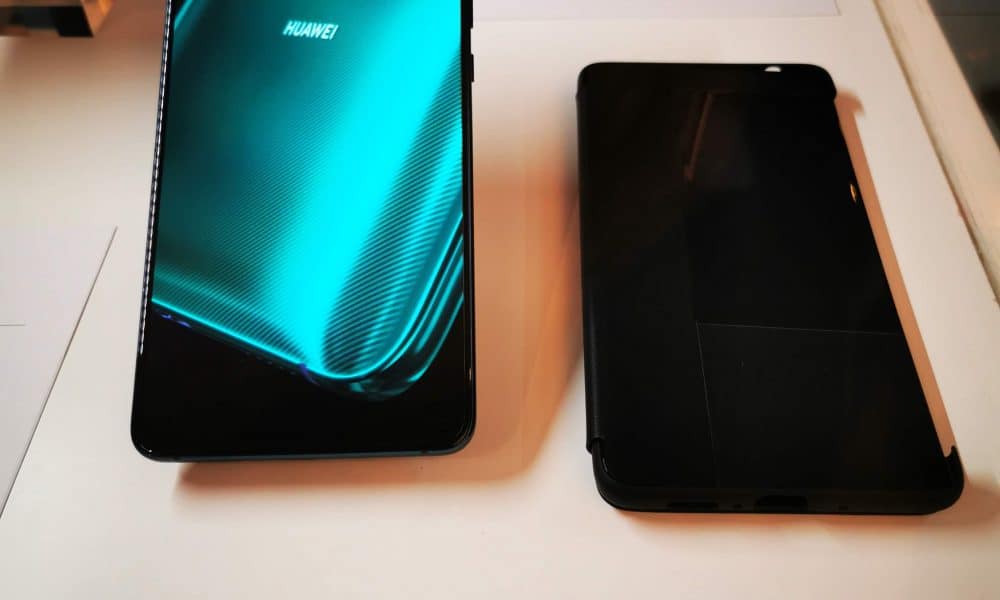 Huawei has launched its first commercial 5G handset—HUAWEI Mate 20 X (5G). Powered by Kirin 980 and the world's first 7nm 5G multi-mode chipset Balong 5000, the latest Huawei smartphone introduces consumers to 5G with a premium experience comprising high-speed connectivity, flagship performance, large display, reliable battery life and more.
The 7.2-inch smartphone harnesses a wide spectrum of patented technologies to support standalone (SA) and non-standalone (NSA) 5G networking modes, as well as multiple generations of network technology, allowing consumers to experience high-speed connectivity regardless of their mobile network operators' infrastructure maturity. The HUAWEI Mate 20 X (5G) will be available in the UK from June for RRP £999.

Dual-Chipset Solution Powers 5G Connectivity
Over the past decade, Huawei has invested significant efforts into developing 5G, amassing an a considerable number of patents for its chipset, device and cloud offerings along the way. So far, Huawei has established more than ten 5G R&D centres globally with an expert team of over 2,000 5G engineers.
The HUAWEI Mate 20 X (5G) is designed for the age of 5G. Forming a dual-chipset solution together with the market-tested Kirin 980, the Balong 5000 chipset represents a culmination of Huawei's efforts in researching and developing mobile network technologies. As a next-generation multi-mode chipset, Balong 5000 is compatible with multiple generations of network technologies, from 2G through to 5G. Switching occurs at low latency and power consumption, greatly improving the user experience in all use cases.
Flexible supporting both SA and NSA 5G networking modes, the HUAWEI Mate 20 X (5G) is compatible with 5G networks at any stage of deployment around the world, adding another layer of convenience for frequent travellers.
Immerse in All 5G Has on Offer
In anticipation of the new entertainment and productivity possibilities that 5G will bring, the HUAWEI Mate 20 X (5G) is equipped with a 7.2-inch FullView Display that provides an ultra-large viewing area for an immersive experience.
Available as a separate purchase, the HUAWEI M-Pen adds a new mode of interaction with the HUAWEI Mate 20 X (5G). Supporting 4,096 levels of pressure, it works seamlessly with a range of productivity apps to let consumers do more on the go. Outside the mobile office, the powerful stylus also enriches the experience on leisure and entertainment apps—for instance, users can use it to flip pages on supported e-book apps, mimicking the way how they read physical books for a more authentic reading experience.
The HUAWEI Mate 20 X (5G) is equipped with a Matrix Camera, consisting of three Leica lenses fitted to a 40MP wide-angle camera, a 20MP ultra-wide camera and an 8MP telephoto camera. From ultra-wide to macro photography, the Matrix Camera delivers an outstanding photography experience. Powerful AI synergizes with the cameras to take smartphone photography to the next level.
HUAWEI SuperCool, an advanced cooling solution consisting of a vapor chamber and graphene heat pipes, ensures the HUAWEI Mate 20 X (5G) remains consistently stable and cool even when playing back high-definition videos or running graphics-intensive apps.
All-Day Battery Life
With faster connectivity comes a greater demand for data. 5G will introduce high fidelity media and game data streaming and new social and productivity app functionalities. All of this translates into a need for more power, a demand that the HUAWEI Mate 20 X (5G) addresses with its 4200mAh battery.
The HUAWEI Mate 20 X (5G) supports 40W HUAWEI SuperCharge, a fast-charging solution certified by TÜV Rheinland, an authoritative and independent international organisation that provides product safety assessment and certification services. To take the battery life even further, HUAWEI Mate 20 X (5G) features an AI-powered battery optimizer that intelligently manages and regulates power consumption in the background.
Availability
The HUAWEI Mate 20 X (5G) will be available in Emerald Green, to pre-order in the UK, from late May and on-sale from June at selected retailers including EE, O2, Three and Vodafone plus selected re-sellers including SKY, MPD and A1 for RRP £999.
Update
Now the Huawei Mate 20 X (5G) is now on hold because of problems with the US at the moment in time.