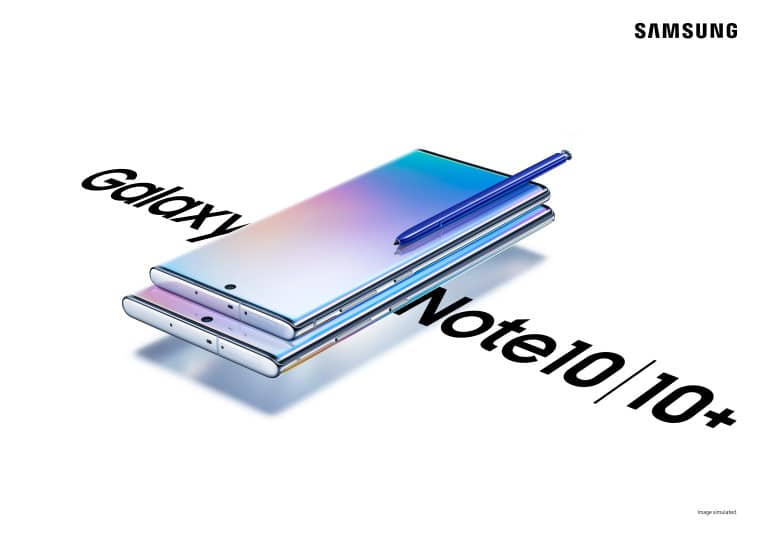 Samsung has just announced a trio of Galaxy Note10 handsets, this is the first time that there's been more than one Galaxy Note smartphone.
With the regular Galaxy Note10 has a 6.3-inch 1080×2280 display, while the larger Galaxy Note10+ has a 6.8-inch 1440×3040, both of which are Dynamic AMOLED. The pixel densities are 401ppi and 498ppi, respectively. As the firm introduced in the Galaxy S10 series, it's still using Infinity O, meaning that the display has a cut-out for the front-facing camera.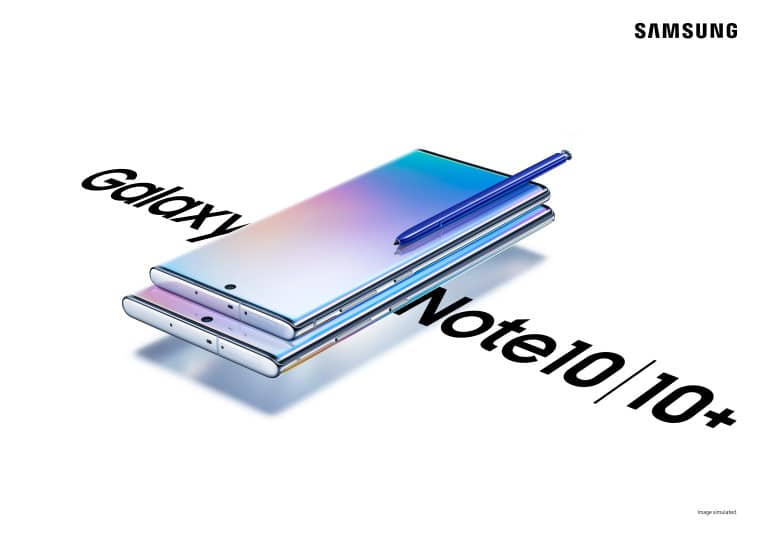 The third flavour of the Note10 is the Galaxy Note10+ 5G. Unlike the Galaxy S10 5G, it's the same as the regular Note10+, but with a 5G modem.
Also, Samsung pointed out on stage, it has nearly no bezels, and the Dynamic AMOLED screen supports HDR10+. It also reduces blue light with Eye Comfort, and the company says that that won't affect colour quality, a bold claim for anyone that's tried out features that cut down on blue light.
But of course, the Galaxy Note is all about the S Pen; otherwise, it would be a Galaxy S. You can now convert your handwritten notes to typewritten text, and then save it as a text file, a PDF, or even a Microsoft
Word document. That means that you can easily share it for working on other platforms.
The S Pen now has a six-axis motion sensor, including an accelerometer and a gyro sensor. So now, it can support new Air actions, and developers can hook into it with a new SDK.
The Note10 has a Link to Windows feature in the Quick Panel, which lets you instantly connect to Microsoft's Your Phone app. That allows you to mirror your phone entirely, or you can send and receive texts or make and receive calls from your PC.
Samsung is also promising a pro-grade camera, bringing the pro features that it's previously developed to video. For example, you can now shoot portrait mode video, although if it's like the S10, that won't work in 4K or 60fps. But it also adds new video editing capabilities with the video editor app. Another key camera improvement is hat Night Mode now works with the front camera.
There's a new Screen Recorder feature, which does just what it sounds like. It's notable though since there isn't a native way to record your screen on Android like there is on iOS.
Credit SuperSaf
The performance is there as well. The Galaxy Note10+ includes an incredible 12GB RAM, while the regular Note10 is 8GB. The chipset used is a 7nm octa-core SoC and Samsung didn't specify which one in its press release, being that it uses different ones in different markets.
Ben Wood, Chief of Research, from CCS Insight
"The Note 10+ follows a tried and tested formula offering a super-sized display which has been the DNA of Note devices since their inception. However, Note 10 sees Samsung taking its S-Pen to a different part of its smartphone portfolio with a screen size similar to the Galaxy S10+. It will be interesting to see whether this adds to Samsung's overall sales or merely shifts volume from one flagship to another."
"In the face of intense competition, Samsung appears determined to cover every available niche. Furthermore, Offering S-Pen support to a smaller form factor is undoubtedly designed to attract consumers who want a pen but feel the screen on Note devices is too big."
"To the casual observer, it is increasingly difficult to tell Samsung's premium Galaxy S and Galaxy Note devices apart. This is in stark contrast to early generations of the Note devices which looked very different to their Galaxy counterparts. This underlines the growing challenge that all smartphone manufacturers face when trying to differentiate their products from those of rival smartphone makers or when differentiating specific products within their own portfolios."
"The deepening partnership with Microsoft capitalises of the strengths of both companies. We consider it an acknowledgement that Android is emerging as a key enterprise platform. This is in stark contrast to the perception of Android a few years ago when many CIO considered the risk of ranging it as an enterprise device as being 'radioactive'. "
"Samsung's deepening partnership with Microsoft was arguably the biggest news at the event. Samsung Mobile's relationship with Microsoft started in 2015 when it first offered a trio of Microsoft apps and OneDrive storage on the Galaxy S6. This was followed by a "Microsoft Edition" of the Galaxy S8 in 2017. Being able to wirelessly connect your smartphone directly to a PC running Windows at the touch of a button is a big step forward."
"The cooperation between Microsoft and Samsung is a potent combination. Samsung can deliver unrivalled reach in terms of hardware and scale, while Microsoft is the leader in enterprise apps."
"The Note 10+ is a widely anticipated additional to Samsung's device portfolio and will appeal to long-time Note devotees looking to upgrade. Given these consumers are typically technology enthusiasts, 5G support will also be appealing. "
"The smaller Note 10 is a gamble for Samsung. It competes with the existing Galaxy S10+ and the two new Note products result in a crowded premium portfolio for Samsung. Pricing discipline and clear messaging around the relative benefits of these new devices versus existing products will be essential."
The Galaxy Note10+ supports 45W charging and Samsung says that just a 30-minute charge will get you through the day. Unfortunately, the 45W charger doesn't actually ship with the product.
Available to pre-order from tomorrow 8th August 2019 from Three, Vodafone and O2 and EE out 23rd August 2019