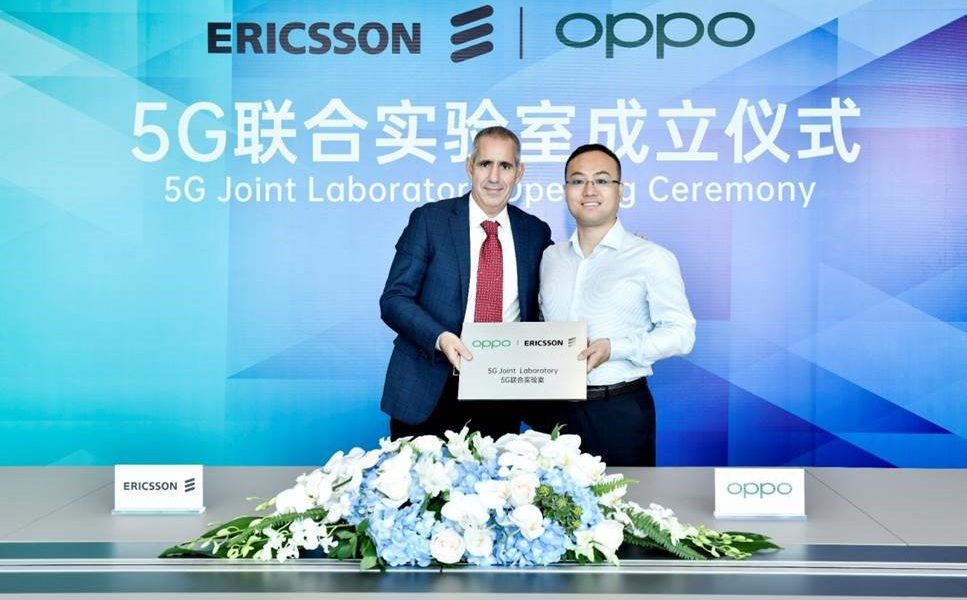 OPPO recently announced the launch of a 5G joint laboratory with Ericsson, a leading information and communication technology provider, which will serve to deepen the two companies' collaboration in the area of 5G. Through the new lab, OPPO and Ericsson will also promote global collaboration, share with each other cutting-edge 5G technologies and help optimize 5G products and network performance to accelerate the large-scale deployment of 5G globally.

OPPO and Ericsson celebrate the opening of the 5G joint lab
(Left: Luca Orsini, Head of Networks and VP, MNEA, Ericsson. Right: Andy WU, VP of OPPO and President of  Software Engineering)
Michael Tran, Director OPPO UK, said: "This joint 5G lab is another step in OPPO's commitment to developing and realising the potential of 5G technology. As a leading adopter and innovator of 5G, we understand the importance of collaboration in harnessing and effecting the full capability of the technology.
"By working in partnership with an industry leader such as Ericsson, we have created a platform from which we can conceive, optimise and implement best in class standards of 5G functionality in the UK and beyond. It is our hope that through OPPO's experience in new product and technology development, along with Ericsson's cutting-edge infrastructure, customers across the UK will soon have access to the highest quality 5G products and experiences."
Tran added: "From cross-hemisphere video conferencing in pixel-perfect HD to immersive movie streaming; AR, VR, and everywhere in between, we are determined to bring the seamless speeds and connectivity of 5G to UK smartphones today, tomorrow and into the future."
"This partnership is of highly strategic importance for both Ericsson and OPPO. It will contribute to the diversity of the 5G ecosystem and benefit from the agility of both companies to bring new use cases and customer value to the market," said Luca Orsini, Vice President and Head of Networks for Market Area North-East Asia at Ericsson.
OPPO and Ericsson have been working closely to contribute to the evolution of 5G technologies and have also signed a global patent license agreement, laying a solid foundation for their ongoing, in-depth collaboration in the 5G era. Since the third quarter of 2018, the two partners have been running joint 5G tests on OPPO's 5G handset and Ericsson's 5G infrastructure with local operator partners in Sweden, Germany and China as part of an effort to accelerate the commercial availability of 5G products. At MWC 2019 earlier this year, OPPO and Ericsson also partnered to showcase 5G smartphones and cloud-gaming scenarios to attendees.
OPPO has been at the forefront of the development and popularization of 5G smartphones. In May 2019, OPPO launched its innovative Reno 5G model in Switzerland, making it the first 5G phone commercially available in Europe. The device has since been rolled out in the UK, Australia, Italy and other markets across the world to great acclaim. With 5G adoption on the cusp of scaling up, OPPO will also launch the world's first Qualcomm-powered dual-mode 5G smartphone by the end of the year, offering an enhanced and more robust 5G experience to global users.
In the new era of 5G intelligent connectivity, OPPO will continue to invest in product development, technological research, standards and application scenarios for 5G and work with leading partners like Ericsson to explore the tremendous potential of 5G and bring its innovation value to consumers around the world.