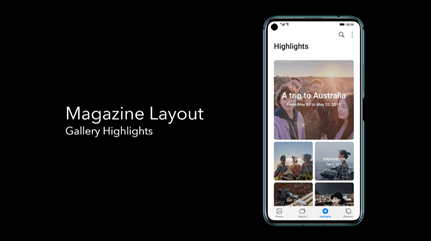 HONOR today announced a new UI upgrade, Magic 3.0, which will provide users with a wide range of new features while solving the problem of lagging to bring a seamless user experience in a highly-integrated way. The Magic UI 3.0 beta programme is now available in the UK for devices including HONOR 20 PRO, HONOR 20 and HONOR View 20.
The new features of the Magic UI 3.0 incorporate a brand-new user experience design that is one of the most revolutionised that HONOR had ever created. It refines every detail and aims to provide an easy, efficient and all-round user experience. This includes a magazine layout for an enhanced reading experience, a new drop-down menu, immersive display with larger fonts as well as Dark Mode for heightened consistency, comfort and readability, sense-activated animation effects, a horizontal level for shooting video and a deterministic latency engine for faster speeds and more fluid experience.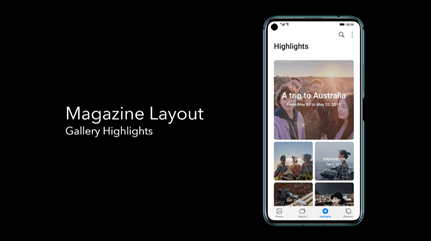 Magazine Layout for an Enhanced Reading Experience
The new layout follows the four important principles of magazine design: bigger title area, white spacing, grid system and highlight elements. This curates the content to become more attractive and engaging, providing users with the magazine-like reading experience.
The 'Settings' icon has been changed from a small rectangle to a larger, rounded icon which looks modern and simple. The setting suggestions and small font descriptions are deleted to increase white space for elegance while ensuring a high-quality user experience.
Brand-New Design for the Drop-Down Menu
The Magic UI 3.0 comes with an entirely new drop-down menu that adopts a simple and modern design. Swipe down once, you'll get the functions that are necessary for your everyday use. Swipe down twice and you'll able to have access to all the functions on the menu.

User-Friendly Design: Immersive Display with Large Fonts
Large fonts can deliver a more direct and user-friendly experience, making adjusting camera parameters easier than ever before. When the user drags the slide bar, the changes are displayed in large fonts while other interface elements become hidden, making adjustment and settings more intuitive, focused and clear.
Dark Mode: A New Digital Landscape for Heightened Consistency, Comfort and Readability
To achieve the best possible contrast between foreground text and the dark background, Huawei's human-centred design lab has conducted tests on user reading efficiency and the subjective reading experience under four common daily lighting conditions. This requires a series of intricate, fine-tuned adjustments to the background, text and system icons.
Magic UI 3.0 has made use of the research findings and launches Dark Mode that ensures consistency, comfort and readability under both dark and light colour schemes.
Sense-Activated Animation Effects: Integrating Touch, Sight and Perception to Ensure a Smooth and Smart User Experience
Animation design is a multidisciplinary and fascinating field where biology and aesthetics are involved. Only when dynamic effects are in line with psychological expectations can a truly seamless visual display be realised. Otherwise, animations can leave users feeling disoriented.
The animation design of Magic UI 3.0 activates the senses based on the visual angle formula for human eyes: V = 2arctan (s/2D) and a massive amount of experimental data. When users touch the screen or shift the pages, they will receive operation responsiveness immediately through their fingers and soothing visual animations through their eyes which correspond to their psychological expectations. For example, HONOR has applied the elastic spring effect to touch operations. When touching an icon or button, the feedback from the operations is more fluid and natural.
Horizontal Level for Shooting Video: Making Shooting Video Easier and More Professional
Using smartphones to shoot video of the most precious moments of one's life has become a common practice. To make this experience much easier and more professional, Magic UI 3.0 features a brand-new Horizontal Level, which can be used to record videos in a stable, peaceful and comfortable way. Simply go to 'Setting', then tap on 'Video', and select 'Setting' to activate this feature.
Deterministic Latency Engine: Faster Speeds and Fluid Experience
The Deterministic Latency Engine is a new advanced technology featured in Magic UI 3.0. By defining the Quality of Service level and deadline of every system task, the operating system will manage tasks based on the level of QoS priority and deadlines to allocate CPU, GPU, memory, baseband, Wi-Fi and other resources. This guarantees that high-priority tasks (such as user touches or foreground app operations) will receive the best resource allocation to create a smoother and more stable user experience. Furthermore, it completely resolves lag issues resulted from unregulated competition for resources among tasks in Android before. This helps to decrease response latency by 25.7% and latency fluctuation by 55.6%, providing a consistently fast daily use and gaming experience.