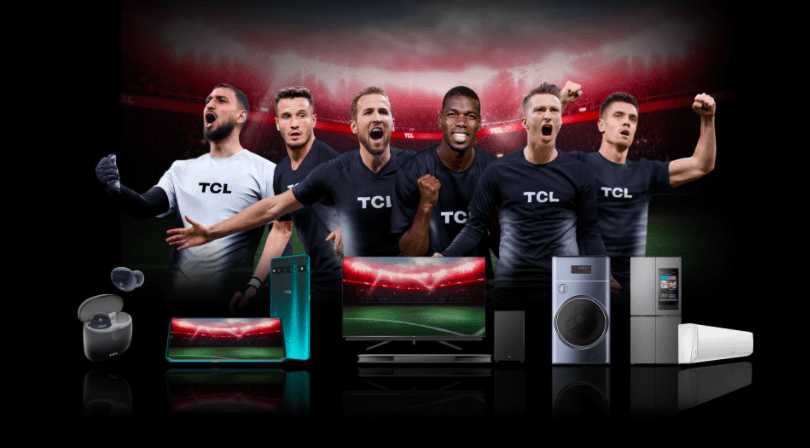 TCL has announced their partnership with six of the world's top footballers as part of the company's program for the 2020/2021 football season in Europe.
TCL has been involved in sports partnerships for many years. It thus made sense for TCL to assemble a team of talents from all over Europe who come to reinforce the brand's visibility in several communication actions and engage even further TCL community.
The French midfielder, Paul Pogba, Italian goalkeeper, Gianluigi Donnarumma, Polish forward, Krzysztof Piatek, England's Football Captain, Harry Kane, Spanish midfielder, Saúl Ñíguez and German forward, Marco Reus will join the TCL brand ambassador program. These outstanding sporting talents were chosen to form one strong TCL team due to their fierce team spirit and dedication to achieving excellence, on and off the field but also because of their personal interest in technology. These players are the best in their field and each of them embodies the idea that every detail matters. Working with such talents and technology enthusiasts inspires TCL engineers to display this level of greatness, pushing the limits of what technology can do even further.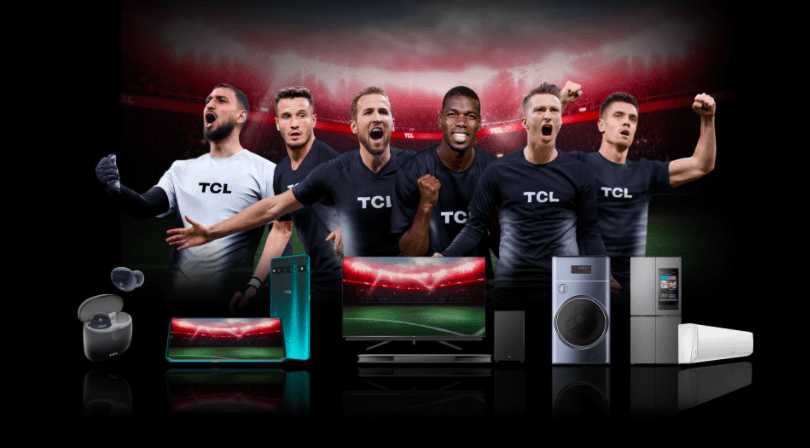 The partnerships will feature the ambassador team within TCL's advertising campaigns both online and offline and will run until July 2021, comprising the entire 2021 EU football season for clubs and national teams.
"We are very excited to welcome six of the most talented footballers in the modern game with Paul Pogba, Gianluigi Donnarumma, Krzysztof Piatek, Harry Kane, Saul Ñíguez and Marco Reus as TCL brand ambassadors.TCL as one of the dominant players in the global TV industry and a leading consumer electronics company continue to provide users with an intelligent life with innovative technologies. ", said Kevin Wang, CEO of TCL Industrial Holdings. "Via this meshwork of activities, we can offer consumers affordable products that function flawlessly in conjunction with each other. Through the inclusion of these first-rate athletes, TCL is furthering our commitment to 'Display Greatness' via sport and anticipate that 2021 will be an exciting year with international competitions for both clubs and national European teams"
TCL's product range is the ideal companion for sports and entertainment, thanks to the excellent image quality, and display expertise on all form factors, be it on TV´s, or TCL mobile devices. In addition to TCL's televisions and smartphones, other product categories are also included in the collaboration, from headsets and soundbars to home appliances. Each brand ambassador will create exclusive content with the brand to be shared across social media channels.
TCL Brand Ambassador Statements:
When questioned on the partnership, Paul Pogba responded: "I'm delighted to have this chance to partner with TCL, it's great to be working side by side with a company that is dedicated to providing top-quality experiences for our supporters."
Gianluigi Donnarumma further commented: "Playing a role as a TCL brand ambassador is a positive way to connect with sports fans, and I'm excited to have this chance to partner with a brand that puts excellence and outstanding quality above all else."
Following on, Krzysztof Piatek stated: "TCL's vision of displaying greatness in all things that we do falls in-line with my constant pursuit of excellence. It is a pleasure to be partnering with a company that is committed to providing exceptional encounters through sport."
Speaking on the partnership, Harry Kane stated: "I am thrilled to be working alongside the TCL EU team. During these uncertain times, it's great to be working with a brand that is committed to quality, excellence, and delivering great, positive experiences for fans."
In regards to his role as TCL brand ambassador, Saul Ñíguez asserts: "Happy and excited to begin this relationship with TCL! Together we will make it an exciting experience for consumers to live with family and friends, spreading the passion for the sport. We hope you will join us in this exciting adventure, as great things are yet to come."
Marco Reus also added: "I am looking forward to working with TCL – especially in these uncertain times, it is important to me to have a strong partner like TCL by my side and, despite everything, to spread the sporting spirit and positive energy."