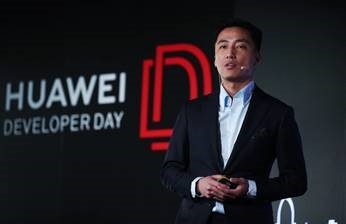 At the first-ever UK & Ireland HUAWEI Developer Conference, HUAWEI, the global technology leader, has today revealed a bold new strategy to connect with the biggest businesses across the country to offer a brand new solution, that will enable them to access and grow their user base and build new revenue streams.
HUAWEI Mobile Services – which is set to become the third-largest mobile ecosystem globally – already has 4 million users in the UK alone, 600M mobile active users across more than 170 countries, including 68 Million in Europe, and will provide businesses with the opportunity to access multiple markets, including remote access to the Chinese market.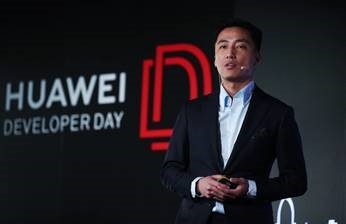 The HUAWEI Developer Conference was attended by some of the most prominent and influential businesses including 18 media companies, nine banks and 12 high street retailers, all learning about the possibilities offered by HUAWEI Mobile Services, including direct access to state-of-the-art hardware and leading AI technology.
The launch of 24 HUAWEI Mobile Services Core Kits was also announced, providing businesses and developers with access to open developer kits in order that they might have an exceptional user experience when developing and then integrating their apps into the Huawei AppGallery.
To support the strategy, the HUAWEI Developer Program also announced a dedicated £20 million investment plan to help promote the UK and Irish developers working with HUAWEI Mobile Services and intending to join the HUAWEI AppGallery. The investment is part of a wider global plan, presented by Richard Yu, CEO of Huawei's Consumer Business Group, in Munich last September, which provides a total investment of 3 billion U.S. dollars.
Huawei UK and Ireland are immediately offering the chance to claim a £20,000 financial incentive for any app uploaded to the HUAWEI AppGallery by the 31st of January 2020.
All of these tools will allow businesses to create the next generation of apps, seamlessly integrate them into the Huawei AppGallery, and ultimately prepare for the fast-approaching, fully connected future.
With 68% of consumers expressing an interest in a new app store that helps them take back control of their personal information, HUAWEI Mobile Services and the Huawei AppGallery is also able to offer a credible, safe and secure alternative.
Anson Zhang, Managing Director of HUAWEI UK's Consumer Business Group commented: "Today's announcement concerning our Huawei Mobile Services offering, highlights our ongoing commitment and support for the UK and Irish businesses and developers. In recent years we have grown significantly and owe our success to the consumers and partners who have chosen and believed in us. As a sign of that support and commitment to the UK and Irish market, we have announced our £20 million investment plan to recognise and incentivise our partners; so that jointly we can build an outstanding ecosystem together. Ultimately, we envision an all-scenario intelligent consumer experience for the future of HUAWEI Mobile Services and will provide businesses and developers with the opportunity to reach new audiences, expand and monetise, as they prepare for the fully connected world."

Also speaking at the event today, Peter Hinssen, a world-renowned author and thought leader said of HUAWEI Mobile Services and the HUAWEI Developer Program: "With the new decade upon us, 2020 is set to bring about a change to the future of mobile and connectivity. With consumers now wanting an increasing amount of control over their data, it's crucial that vendors align their products and services. With the HUAWEI Developer Program and the continually evolving HUAWEI Mobile Services, businesses now have the opportunity to use innovative applications that have consumers' desires at the heart."
HUAWEI Mobiles Services Core Kits: tools for the growth and development of the ecosystem
With HUAWEI Mobile Services integration, businesses will receive direct access to HUAWEI's state-of-the-art hardware and leading AI technology. In order to provide all developers with the tools they need, HUAWEI has launched 24 HUAWEI Mobile Services Core Kits. These developer kits are set-up within app categories, such as the Wallet Kit, Drive Kit and Health Kit, which ensures developers can create exceptional user experiences for specific apps.
Scan, Awareness & ML Kits – these kits provide developers with the opportunity to give sets access to QR and other barcodes around them, provide real-time travel updates and utilise machine learning to give cutting-edge visual and language services
Map & Location Kits – the kits provide precise user locations with the speed and accuracy of multiple methods, as well as allow user personalisation for maps and routing planning
Push & Analytics Kit – both of these kits can help developers analyse their data, helping them to understand user behaviour and gain in-depth insight about their audience, products and content
In-App Purchases & Account Kits – to ensure healthy revenue growth, these kits allow developers to monetise their apps
Integrated digital services within HUAWEI Ability Gallery
HUAWEI also presented HUAWEI Ability Gallery, a proprietary platform that supports developers and companies with automated services for intelligent content distribution. HUAWEI Ability Gallery is able to connect all devices in a single ecosystem, supporting numerous services such as smart cards, Html 5 page, or apps accessible.
The HUAWEI Ability Gallery is the perfect tool for developers to improve their user experience. For example, in case of travel, providing real-time information on taxi service, weather forecast at the destination, smart translation of restaurant menus, boarding passes and hotel reservation. In the 1+8+N approach, HUAWEI Ability Gallery connects a smartphone (1) to 8 devices (PCs, tablets, Vision, speakers, glasses, watches, Telematics and headsets) to provide an infinite number (N) of services and user experiences using AI.
HUAWEI and AppsFlyer for users' privacy
Also discussed was HUAWEI's new Open Advertising ID (OAID) solution to address information security issues. As one of the functions of the HUAWEI Mobile Services Core Ads Kit, the OAID provides personalised advertisements for users while respecting their privacy and protecting their personal data. With this solution, Huawei can work with partners to build an open and compliant smartphone ecosystem. Currently, HUAWEI has forged partnerships with industry-leading mobile marketing analytics and attribution companies, such as AppsFlyer, to jointly protect user privacy.
| | | | | | |
| --- | --- | --- | --- | --- | --- |
| HMS | HUAWEI APPGALLERY | HUAWEI THEMES | HUAWEI VIDEO | HUAWEI MOBILE CLOUD | HUAWEI ID |
| Over 1.3M registered developers | Available in more than 170 countries | Over 80M MAU (global) | Over 140M MAU (global) | Over 180M MAU (global) | Over 68M users registered Huawei ID in Europe |
| Over 600M users in 170 countries | 400M MAU (global) | In the European market, over 130M themes are downloaded each year | To be available in 10+ European markets in 2020 Q1 | Number of monthly active users using Mobile Cloud to restore date in Europe is 14M | |
| 55.000+ Apps integrated with HMS Core | 220 billion downloads every year | | | | |