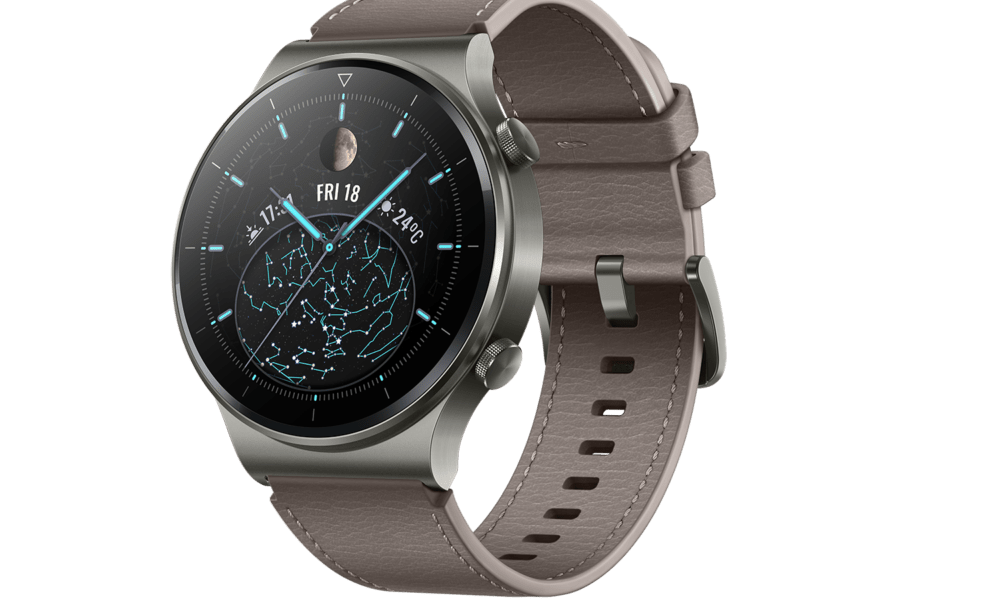 Huawei Consumer Business Group today announced its latest smartwatch, the Huawei Watch GT 2 Pro. With this new launch marks the latest addition to Huawei's award-winning Watch GT 2 Series, one of the best-selling smartwatches in the world. With a rugged yet premium design, advanced sports tracking, professional health monitoring, two-week battery life and wireless charging, the new Huawei Watch GT 2 Pro is set to be a big hit with fitness fanatics and casual users alike.
Pro design that is built to last
At its core, the new Huawei Watch GT 2 Pro is designed to help users explore more. Whether exploring the world around them, learning new skills or exploring the limits of their fitness potential, Huawei Watch GT 2 Pro is the perfect companion to record users' sporting achievements and health status.

The Huawei Watch GT 2 Pro is a minimalistic and comfortable, yet robust smartwatch. The watch face is made of sapphire giving it a harder, more durable, scratch-resistant exterior to keep it protected even during outdoor sports – while the watch frame is made from titanium.
With over 200 watch face options to choose from, the Huawei Watch GT 2 Pro gives users many customisable options. Huawei Share OneHop Watch Face lets users simply tap their Huawei Watch GT 2 Pro to their smartphone to transfer images from their photo gallery, allowing them to truly personalise the watch face. Users can choose different layouts showing tide times, constellation and moon phases to master the elements.

Perform like a pro
Whether users are just getting into new sports or looking to push their performance to the next level, the Huawei Watch GT 2 Pro offers over 100 workout modes to choose from. This includes new sports modes for skiing, cross country skiing, snowboarding and golfing on a driving range. The skiing modes monitor users' average speed, distance, trajectory, cumulative descent, maximum slope, heart rate, blood oxygen saturation and more, with voice reminders to ensure safety. Golf driving range mode has the capability to analyse the user's swing tempo and speed, also giving visual swing demonstrations on the watch face.
In addition to the new sports modes, Huawei continues to cater for a diverse range of extreme sports and leisure activities, water sports, ball games and snow sports with the Huawei Watch GT 2 Pro. Huawei also offers automatic workout detection for six workout modes, delivering a seamless experience.

Whichever sport users are practising, the outdoor safety guidance ensures they are ready to face the elements. Users can track the sunrise, sunset, moon phase, tide times and severe weather alerts. This is particularly useful for outdoor adventurers and sportspeople.
Many people have spent a lot of time working out alone or at home recently, leading to high demand for virtual personal training. The Huawei Watch GT 2 Pro delivers on this front as it comes pre-installed with over 10 running courses offering a guided service to keep users motivated.
Professional health tracking
Huawei has significantly improved its health-tracking capabilities on the new Huawei Watch GT 2 Pro. Heart rate tracking is at its most advanced, as the upgraded Huawei TruSeen 4.0+ heart rate monitoring technology combines with a 6-in-1 LED lens and a sapphire glass back to provide more accurate readings. The Huawei Watch GT 2 Pro also supports real-time heart rate monitoring, whether running, swimming, or practising another sport, it monitors real-time heart rate, workout heart rate, high heart rate alert, highest oxygen uptake, recovery time and more. In health management scenarios, the Huawei Watch GT 2 Pro supports 24-hour heart rate monitoring, resting heart rate monitoring, abnormal heart rate notifications, scientific sleep tracking, all-day stress monitoring and blood oxygen saturation (SpO2) monitoring.
Pricing and availability
The Huawei Watch GT 2 Pro (£299.99) comes in two variations: Night Black (Sport Edition) and Nebula Grey (Classic Edition), available to purchase from Huawei Store and selected retailers from the 5th October. Customers purchasing on or before 20th Oct can also claim a free pair of Huawei FreeBuds 3 (via redemption).