To help spread Christmas cheer throughout the month of December, Huawei has today announced a wide range of gifts and savings across AppGallery and the Huawei Store, to help its customers kick start the season in style.
APPGALLERY OFFERS
AppGallery will be offering its users the chance to win big this Christmas, simply by downloading their favourite apps. Kicking off today and ending on the 31st December, users can head to the AppGallery to check out the latest offers and prizes.
Huge savings are available on household favourites – just in time for those all-important festive shopping sprees – including up to 50% off ASOS and JD Sports, up to 20% off at John Lewis, and 25% off at Very. Users can also enjoy discounts of up to 50% on Sports Direct, while Just Eat fans can dine in for less with £10.
Other participating apps include Boots, Wowcher – Deals & Vouchers, Boohoo, Huawei Store, Unidays, Farfetch, Deezer, TopCashback: Cashback&Offers, Instabridge, TomTom, GAME Rewards, Memrise, Bolt, Sports Direct, Student Beans, Quidco, Trainpal1.
What's more, every download will activate entry into the HUAWEI AppGallery lucky draw spin. Users can also share the campaign with friends for extra chances to win. There will be different gifts during the promotion period, ranging from Huawei products to vouchers and coupons. To download your favourite apps and secure your entry into the lucky prize draw, visit: https://appgallery.huawei.com/
HUAWEI STORE SAVINGS
The Huawei Store will also be offering huge discounts across its portfolio of smartphones, wearables, audio, tablets and PCs. See below for a range of cutting-edge tech at unbeatable prices, all available directly from the Huawei Store now until the 15th December 2020.
HUAWEI Mate XS + Free Gifts 
Spread your wings with HUAWEI Mate Xs. Adopting the unique Falcon Wing design with an innovative hinge, HUAWEI Mate Xs presents groundbreaking technology with a remarkable visual sensation. Folded as a sleek smartphone, it fits perfectly in your pocket and palm. You can always be ready for tasks on the go. Flip it open, you can explore more in the double-sized immersive screen with comfort and ease.

Available in Interstellar Blue.
Huawei festive offer: £1,599.99 RRP £2,299.99 (save 30%)
Free Envelope Leather Cover Black + FreeBuds Pro with every purchase
Available to buy here
HUAWEI P40 Pro + Free Gifts
Discover smartphone photography like never before with the HUAWEI P40 Pro Ultra Vision Leica Quad Camera, which helps capture stunning photos and videos anytime and anywhere you want.
Revolutionise your experience of speed and power with the cutting-edge Kirin 990 5G Chipset, while its innovative design – inspired by the beauty of nature – allows you to enjoy an immersive view over an entirely fluid screen.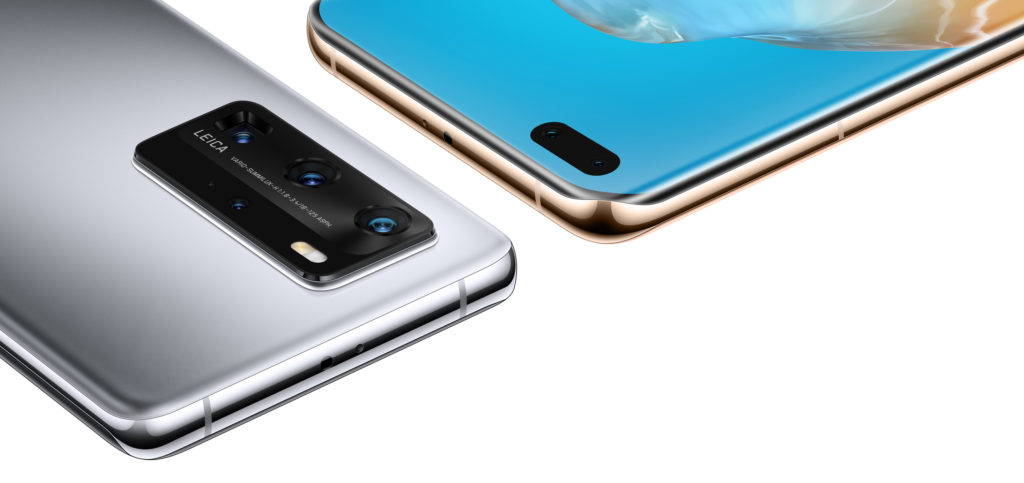 Available in Black, Blush Gold or Silver Frost.
Huawei festive offer: £749.99. RRP £899.99 (save 17%)
Free PU Case + FreeBuds 3 + SuperCharge Wireless Car Charger + SuperCharge Wireless Charger (Max27W) with every purchase
Available to buy here
HUAWEI Mate 40 Pro + Free Gifts
An object of sheer beauty, the HUAWEI Mate 40 Pro marries iconic design with innovative tech. It features a small front camera cut-out, which is packed full of technology, with 3D Face Unlock, an Ultra Vision Selfie Camera and Smart Gesture Control. Become your very own movie director with a whole host of outstanding videography features, including Dual Cine Cameras, which create a 3:2 cinema-style shooting ratio sensor, Track Shot, which follows subjects so that they always remain in the centre of the shot, and Story Creator, which allows you to choose a template and follow instructions to create an engaging story.

The Mate 40 Pro is the ultimate eye-catching accessory this festive season, enabling you to capture unforgettable family memories and Instagram-worthy pictures like a professional.
HUAWEI Mate 40 Pro is available in Black and Mystic Silver.
Huawei festive offer: £1,099 + free gifts
Free PU case + SuperCharge Wireless Car Charger + FreeBuds Pro with every purchase
Available to buy here
HUAWEI Watch GT 2 Pro + Free Gift
With a rugged yet premium design, advanced sports tracking, professional health monitoring, two-week battery life and wireless charging, the new HUAWEI Watch GT 2 Pro is set to be a big hit with fitness fanatics this festive season. A minimalist and comfortable, yet robust smartwatch, the HUAWEI Watch GT 2 Pro features a watch face made of sapphire giving it a harder, more durable, scratch-resistant exterior to keep it protected even during outdoor sports – while the watch frame is made from titanium.

Huawei festive offer: £229.99. RRP £299.99 (save 23%) + free gift 
Free FreeBuds 3i
Available to buy here
HUAWEI Watch Fit
The HUAWEI Watch Fit – Huawei's first-ever smart sports watch with a rounded rectangular face – encourages users to get into new forms of exercise through a variety of animated fitness courses, workout modes and scientific health tracking features.
The breathable strap design works in tandem with long-lasting battery life to ensure the HUAWEI Watch Fit can be worn for days or even weeks on end, and its stylish design means wearers will never want to take it off their wrists.

Available in Graphite Black, Mint Green, Sakura Pink, Cantaloupe Orange.
Huawei festive offer: £89.99 RRP £119.99. Save 25% 
Available to buy here
HUAWEI FreeBuds Pro
Get in the Christmas spirit this season with the FreeBuds Pro wireless earphones from Huawei. Small but mighty, these earphones feature a unique in-ear design and are available in three different sizes of silicone earplugs. This, combined with the fit detection feature – available in the HUAWEI AI Life app –, allows users to find the perfect size for them.

Ideal for working from home or on the go, noise cancellation, volume adjustment, answering calls, pressing play and skipping songs are all effortlessly achieved via the HUAWEI FreeBuds Pro's distinctive square-shaped, sleek and stylish earphone stems. The gestures are highly intuitive – simply swipe or pinch a specific area to take control.
The FreeBuds Pro are available in three colours – Silver Frost, Ceramic White and Carbon Black.
Huawei festive offer: £139.99. RRP £169.99. Save 17%.
Available to buy here
HUAWEI MatePad Pro + Free Gifts
Featuring a pure and minimalist design that is engineered to impress, the HUAWEI MatePad Pro combines a large display with ultra-narrow bezels to achieve the world's highest tablet screen-to-body ratio at 90%. Powered by the 7nm Kirin 990 flagship chipset, the HUAWEI MatePad Pro delivers outstanding performance and battery life.

Available in Midnight Grey.
Huawei festive offer: HUAWEI MatePad Pro 6+128GB, Price 499.99 (RRP 499.99) Gifts: HUAWEI MatePad Pro Flip Cover, HUAWEI MatePad M-Pen and HUAWEI Keyboard
Available to buy here
HUAWEI MateBook X Pro 2020 + Free Gifts
Combining everything you need for work and play, the elegant and powerful HUAWEI MateBook X Pro 2020 delivers extreme portability, a premium FullView display, cutting-edge performance and smart connectivity.
The perfect companion to remote working, the device is equipped with a sensitive touch screen allowing you to scroll, zoom and interact efficiently. Thanks to the new EMUI 10.1 operating system, you can also simply touch your smartphone to your laptop to create one collaborative device to easily transfer files.

Available in Space Grey and Emerald Green.
Huawei festive offer for MateBook X Pro 2020 Intel Core i7: £1399.99. RRP £1699.99. Save 17% + free gifts
Free HUAWEI Sound X & Leather Case with every purchase
+ Bluetooth Mouse Swift from 10th – 15th December 
Available to buy here
HUAWEI MateBook D15 2020 + Free Gift
Designed for the tech-savvy, the latest 15.6-inch Huawei laptop introduces a revolutionary cross-platform experience that allows users to seamlessly work with multiple devices through a single pane of glass.

The HUAWEI MateBook D 15 inherits the DNA of Huawei's PC products, which is expressed in its aesthetic design, innovative technology and the intelligent experience that it delivers. On top of its lightweight chassis, HUAWEI FullView Display, powerful performance, robust build quality and chic design, the latest HUAWEI MateBook D comes with a range of new features including support for Huawei Share. Equipped with a full array of smart capabilities, the HUAWEI MateBook D 15 is an ideal gift for tech loving family and friends this festive season.
Huawei festive offer for MateBook D15 2020 AMD Ryzen 5 8+512GB: £649.99. RRP £699.99. Save 7% + free gift
Free HUAWEI FreeBuds 3i with every purchase 
+ Bluetooth Mouse Swift from 10th – 15th December
Available to buy here