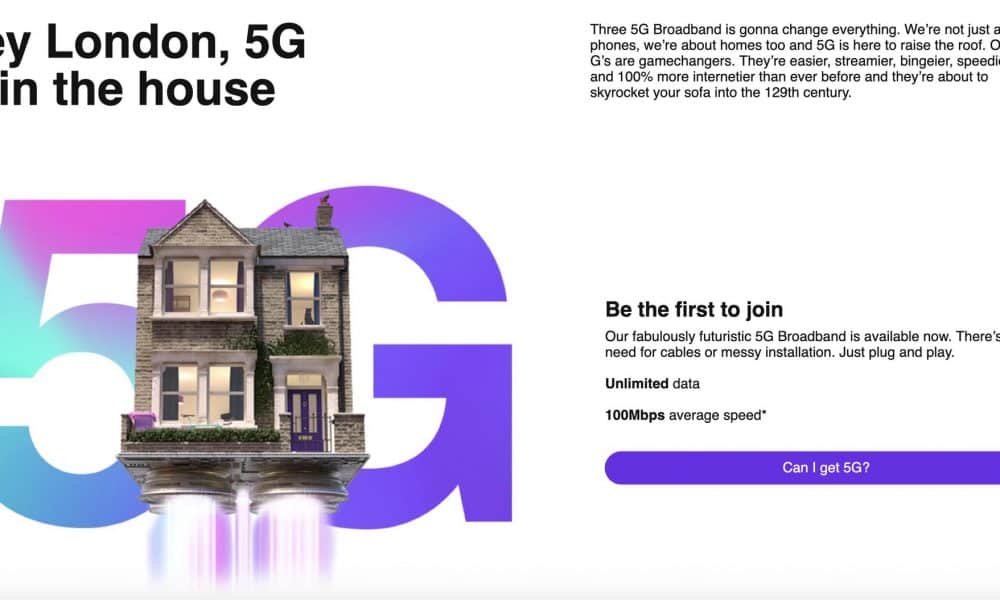 Three UK has today (19th August) launched its 5G network and is now selling 5G broadband as an alternative to fixed-line services.
The service will cost £35 per month on a 12-month contract, offering unlimited data in the home, and "fibre-like, ultrafast speeds". Multiple 4K video streams and online video games can be played claims Three.

An engineer visit is not needed, customers can get same-day delivery for the hub which simply needs to be plugged in and turned on to start working.
Ben Wood, Chief of Research, CCS Insight said "This is Three UK's first tentative step into the 5G market and given it's a pure-play operator focused on mobile connectivity its unsurprising it has decided to offer a disruptive 5G home broadband solution, particularly given it is able to leverage the former Relish assets that it had acquired. It will be interesting to see how big its coverage footprint at point of launch in the London area and how quickly it is able to expand."
"Three UK is in pole position when it comes to its potential with 5G given the huge slice of spectrum it owns. The 100MHz of contiguous spectrum is the optimal package when it comes to rolling out 5G technology. This is a first toe in the water for the 5G service and I guess we'll really find out what Three can offer when the wider 5G network is turned on and you can use it with a smartphone."
"Now Vodafone UK has jumped on the "unlimited" bandwagon Three will have to work extra hard to differentiate its 5G offer. Expect to hear a lot more about its spectrum holding and strong base of data-hungry users in coming months."
"With the most data-hungry mobile customers in the UK, 5G can't come soon enough for Three from a capacity and performance perspective. This 5G broadband solution is a first step, but getting 5G handsets into its users' hands has to be the big focus going forward."
Three will connect 25 cities in the UK to 5G by the end of the year and claims it will have the fastest 5G network because it holds 100MHz of spectrum.
Three 5G Broadband tariff details:
One single 5G plan with truly unlimited data, £35 per month
12-month contract
Same day delivery for £20, next day delivery free
The operator will range the Huawei Mate 20 X 5G and Note 10+ 5G at a later date this year.