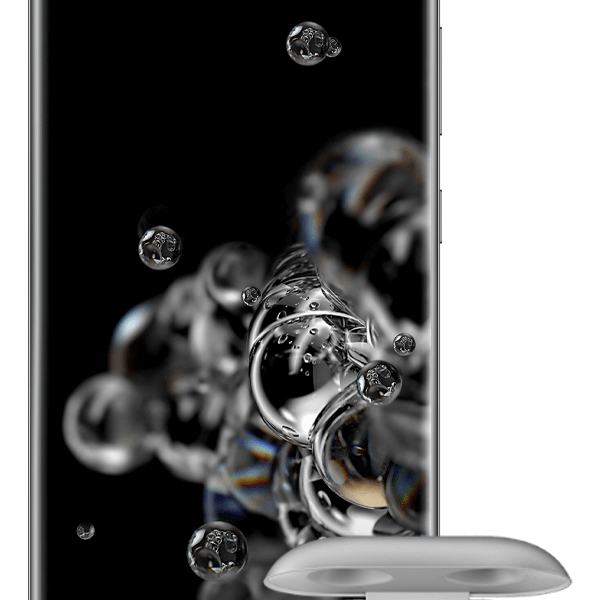 The Samsung Galaxy S20, S20 5G, S20+ 5G and S20 Ultra 5G are now available to pre-order at Vodafone UK.
Pre-order the S20+ 5G or S20 Ultra 5G before 8th March and claim a free pair of Samsung Galaxy Buds+ worth £159. Customers who trade in their old Samsung Galaxy (S8 and above) or Samsung Note (Note 8 and above) can get £15 off each month for the duration of your contract (£360 in total). What's more, customers can pre-order the S20 5G for the same price as the S20 (4G) and gain access to Vodafone's faster, more reliable and responsive 5G service.

Commentary from Ben Wood, chief of research, CCS Insight
Galaxy S20 Family
"Samsung is continuing its metronomic updates to its Galaxy flagship devices with the S20 family. The challenge, which it faces together with all other smartphone makers, is how to stand out from the endless stream of similar-looking black touchscreen rectangles. The support for 5G across all three variants of the S20 line up is a key element, ensuring customers are getting a future-proof purchase and the camera certainly stands out, particularly on the Flagship S20 Ultra."
"Samsung has definitely stepped up when it comes to camera capabilities on the new S20 line-up. In some areas, such as the zoom capabilities it is merely in catch-up mode with some of its Chinese rivals who have been using stacked periscope zoom modules for a while. However, little touches such as the Single Take mode, the smoothness of the zoom as you multiply the magnification and also the window-in-window viewfinder when you are taking pictures at 30x zoom and more are innovations where Samsung should be applauded."

"Samsung has a unique window of opportunity with these new products. Arch-rival Huawei is still encumbered by being on the US Entity List and Apple lacks a 5G variant of the iPhone. It can position the Galaxy S20 family as the ultimate Android smartphone that also delivers a future-proof purchase given the support for 5G, 8K video and an advanced camera. At a time when people are typically keeping their smartphones for three years or more, it is a strong marketing message."
All the new Samsung Galaxy S20 devices can be teamed with one of Vodafone's ground-breaking unlimited 5G data plans. Pick up a new Samsung Galaxy handset with unlimited data from:
Samsung Galaxy S20 (4G) – for £60 per month (plus £29 upfront cost)
Samsung Galaxy S20 5G – for £60 per month (plus £29 upfront cost)
Samsung Galaxy S20+ 5G – for £68 per month (plus £29 upfront cost)
Samsung Galaxy S20 Ultra 5G – for £78 per month (plus £29 upfront cost)
Thanks to Vodafone's '12 Month Upgrade Promise', customers can upgrade their new Samsung Galaxy S20 device to any handset in 12 months' time with no early upgrade fee. In addition, customers who pre-order their device by 8th March will receive it on the 10th March – 3 days ahead of the launch.
A Vodafone Entertainment Partner is the perfect match for unlimited data and a new Samsung Galaxy handset. Customers on selected pay monthly plans can choose between Spotify Premium, Amazon Prime Video, Sky Sports Mobile TV or a NOW TV Entertainment Pass for an extra fee. And with VeryMe – Vodafone's loyalty programme – customers can also enjoy a wide range of exclusive rewards and discounts. Over 3 million customers are already using VeryMe and enjoying weekly treats, rewards and discounts.
All four models will be available in the 128GB variant and in Cosmic Grey. The S20 5G is also available in Cloud Blue and Cloud Pink, and the S20+ 5G and S20 Ultra 5G in Cosmic Black. The S20 Ultra 5G is also available with 512GB of storage in Cosmic Grey.