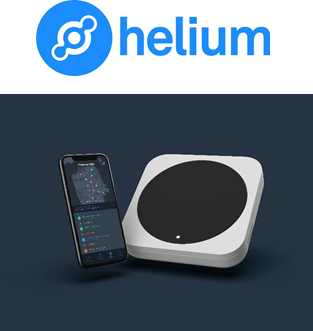 Helium, the company that built the world's first peer-to-peer wireless network, has announced the European launch of its Helium Hotspots. The business, which was co-founded by Helium CEO Amir Haleem and Napster's Shawn Fanning, has seen exponential uptake of its devices in North America and creating 'The People's Network' across more than 1,000 cities.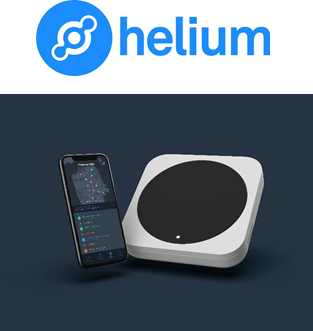 The Hotspot enables people to own and operate a wireless network that will support the Internet of Things (IoT) technology surrounding them. The technology supports both smart home and IoT devices from smart pet collars and home delivery systems, to smart bikes and scooters, medical transport and tracking devices, cooling systems, smart lighting systems, and more. It gives people, organisations, and a wide range of industries the opportunity to take advantage of its energy-efficient, cost-saving, high-value and innovative benefits.
The People's Network, which is created by Hotspots, moves data over extremely long distances thanks to Helium's open-source "LongFi" technology. LongFi, which is a package of LoRaWAN protocol and the Helium blockchain, enables IoT devices to transmit data 200 times farther than WiFi for a fraction of standard mobile costs, simplifies the process to connect devices to the Internet, and rewards owners for becoming part of The People's Network.
Helium was launched with one goal in mind: to connect the world's devices through a new decentralised wireless economy, which is owned and operated by the people. Together, they created 'The People's Network' to provide low-bandwidth, IoT devices that went beyond the scope of telecom companies. This open-market approach to a wireless network, which is a first of its kind, removes the huge capital costs required to build traditional cellular networks – transforming the traditional telecom model by creating a sharing economy similar to the one that changed the accommodation and transportation industries.
"Now anyone in Europe can own part of a wireless network that they, and their community, relies on – and help create a world where devices like smart pet collars or smart bikes and scooters don't need a mobile contract to function.  We're thrilled with the exponential growth we've seen in North America, and are excited to bring the power of The People's Network to Europe," said Amir Haleem, Helium's CEO and co-founder.
Stylish in design, the Hotspot can be ideally placed by the window in a home, office or shop. The Hotspot connects to your home internet via WiFi or ethernet and extends that connection for hundreds of square miles/km to IoT devices. Hotspots also act as miners with an innovative blockchain incentive that rewards owners with a new cryptocurrency, Helium (HNT), for helping to build coverage and enabling IoT devices to send data to the Internet.
Since launch, Helium has welcomed a rapidly increasing community of dedicated users – each playing a key part in the development of The Peoples' Network. In some US cities, the company has thanked Helium Patrons, meaning Hotspot owners who have deployed more than 15 Hotspots across their communities, have played a fundamental role to connect a wide range of IoT companies, and for growing the company's network further across the country.
Michael Giuffre, General Manager of Aerostat, a Helium Patron group based in Boston, Massachusetts, said: "Building the Helium Network on the Patron level was initially about creating coverage. But as we've expanded our efforts alongside the Helium team and others in the community, we're spending more time looking for ways to put devices on the Network. Recently we signed a deal with a major commercial real estate group to deploy coverage and environmental sensing for their buildings. We see this type of deployment as the future."
Key businesses that Helium works with include beverage delivery service company Nestle's ReadyRefresh, agricultural tech company Agulus, and Conserv, a collections-focused environmental monitoring platform that provides widespread coverage to art and cultural collections to its clients.
The Helium Hotspot is now available for purchase online in Europe for EU £450/€450.