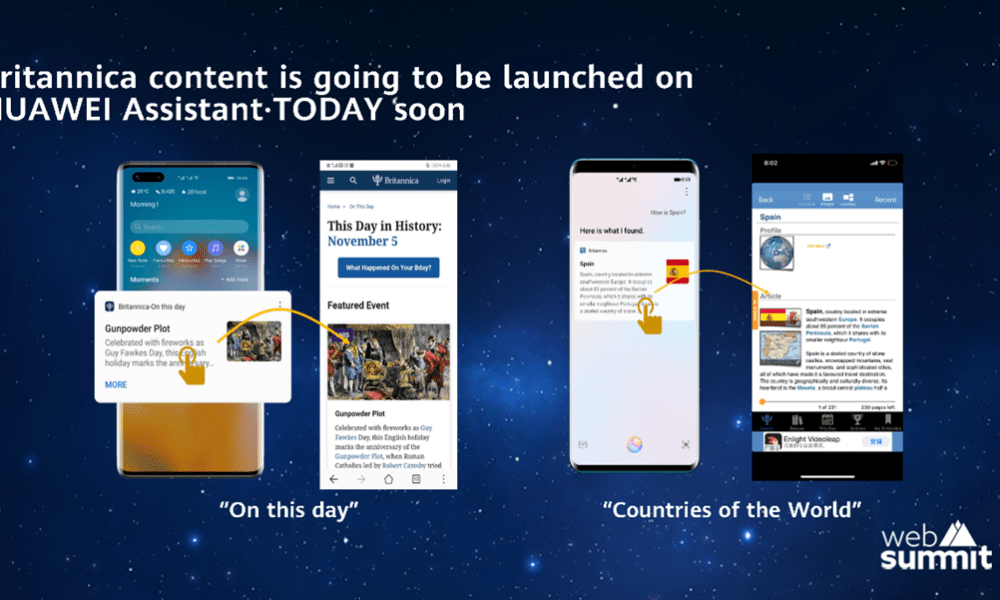 During the opening day of Web Summit 2020, the global leading technology company Huawei announced HMS Connect in Europe reaffirming its ongoing commitment to rapidly grow its Huawei Mobile Services (HMS) ecosystem globally, together with partners, developers and individuals.
As an important part of the HMS ecosystem, HMS Connect is a new suite of tools designed for app developers, content and service providers, enterprises and small and medium-sized businesses, providing them with one-stop, full-scenario development, growth and commercialisation solutions.
HMS Connect consists of several main services: AppGallery Connect, Business Connect, Content Connect and Huawei Ability Gallery and more. These tools will connect global partners and developers with millions of Huawei device users through multiple touch-points for a high-quality digital experience.
Jervis Su, Vice President of Mobile Services, Huawei Consumer Business Group, said: "As of today, more than 700 million Huawei users globally, including more than 80 million in Europe, have access to a comprehensive digital ecosystem through HMS apps such as AppGallery, Browser, Mobile Cloud, Petal Search, Petal Maps, Assistant, Video and Themes, etc. With the launch of HMS Connect, we're providing new possibilities and benefits for businesses and developers around the world, to collaboratively deliver more innovations, as well as create better services and experiences for the end-user."
PROVIDING NEW POSSIBILITIES WITH HMS CONNECT
AppGallery Connect
This new platform aims to simplify app development and maintenance thanks to lower costs, improved mobile application quality and operation efficiency through cross-platform operation including Android, iOS, web etc. Developers can build their app in AppGallery Connect using the HMS Core kits, with this one-stop app service platform covering the entire app lifecycle, including innovation, development, distribution, operation and analysis.

Ryanair, Europe's leading low-cost airline, released its mobile app on AppGallery last year and using AppGallery Connect services, the company has successfully simplified its processes, reducing complexity in building the app, as well as lowering the amount of manual work required. As a result, the size of the Ryanair mobile app has been reduced by 30%
Krzysztof Gluszczyk, Android Lead Developer at Ryanair, said: "Introducing App Signing and the App Bundle via AppGallery Connect to Ryanair was a great move that allowed the developers to simplify the pipelines, reducing the complexity of the signing stage and lowering the number of generated artefacts."
Business Connect
As part of the rapidly growing HMS ecosystem, Huawei recently launched its Petal Maps and Petal Search applications – the company's latest map and search engine solutions. At Web Summit 2020, Huawei announced that businesses can now integrate their business information more easily with these apps, thanks to Business Connect, a new unified business management platform.
By creating an account with Business Connect, enterprises can expand their presence across multiple platforms as all the account information they provide including business hours and contact listing information will be automatically integrated with Huawei's Petal Maps and Petal Search applications, as well as other related services, meaning their business will be more visible to Huawei users.

To provide better content and services for users, Huawei also announced its new "Unibox" platform at Web Summit 2020, which provides local businesses with a management platform that enables them to integrate their product data quickly and easily with Petal Search, so users can instantly see available offers and prices, before going directly to the supplier website.
Content Connect
Forming part of the HMS content ecosystem, with existing apps such as Huawei Video, Content Connect is comprehensive content creation, operation and monetisation platform. All content uploaded to Content Connect will automatically be distributed to Huawei Video users worldwide, in line with the individual copyrights of different territories and protected by digital rights management (DRM) and comprehensive content protection functions. All the uploaded content from the Huawei Content Connect Platform will be operated as AVOD content.

Additionally, through Huawei Ads, partners will be able to generate revenue and benefit from incentive plans. Huawei Ads is built around and fully integrated with the HMS ecosystem, so developers can benefit from a fully connected digital world of high-quality traffic, whilst advertisers can benefit from the opportunity to earn a high revenue share, generate downloads and acquire new users by relying on Huawei's precise targeting capabilities.
The popular "On This Day" section of the Encyclopaedia Britannica, which showcases important events that occurred on the same date throughout history can now be accessed with even greater ease via Huawei Assistant. Users can subscribe to this ability to instantly enjoy historical knowledge on a daily basis via their personalised info hub, which is accessed via a simple swipe right on the home screen.
With more than 700 million Huawei users, 2 million registered developers and 100,000 HMS Core integrated apps worldwide, Huawei Mobile Services will continue to leverage its leading technology and capabilities to empower industrial development in Europe as well as promote innovation among individuals and medium enterprises. Huawei is committed to contributing to society by helping European partners and developers bring innovative digital experiences to their consumers and to establish their digital sovereignty through open and mutually beneficial technologies.
Daniele Genovese, Managing Director at BlueNote Milano, a leading jazz club in Italy, commented: "As part of our business strategy for 2020, we focused our research efforts on digital distribution partners. We were searching for an efficient and targeted communication and distribution channel, and we found that Huawei offered this service. Content Connect has played a key role in enabling BlueNote to successfully distribute content on a global scale, via the platform of Huawei Video
Huawei Ability Gallery
Huawei Ability Gallery is Huawei's unified platform for ability integration and distribution. It aggregates traffic from a wide range of devices in all scenarios and provides developers with a one-time integration and all-scenario distribution solution.

At Web Summit 2020, Huawei announced a new content partnership between its virtual assistant service, Huawei Assistant, and the acclaimed Encyclopaedia Britannica publication, enhancing the growing HMS ecosystem with a premium digital learning resource.