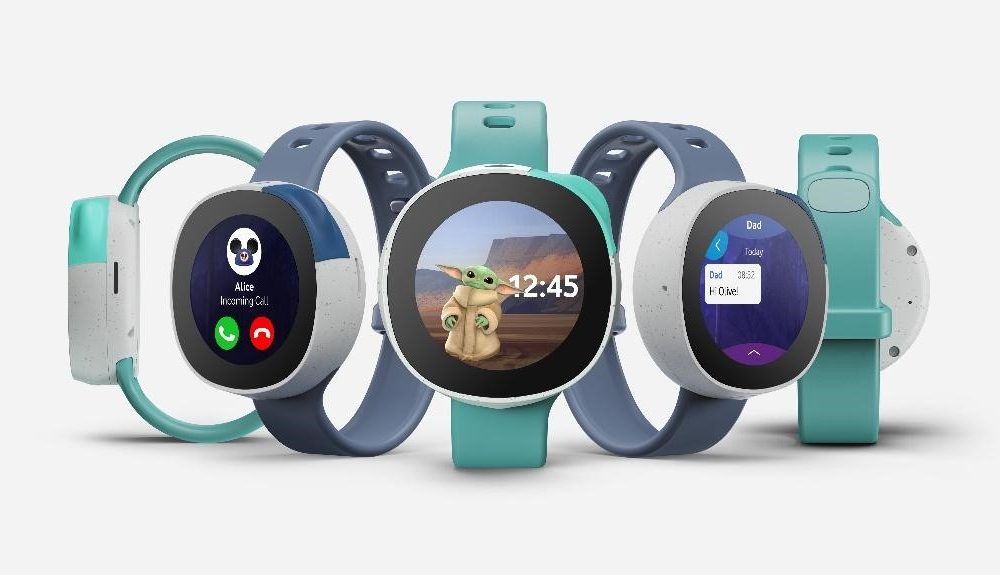 Vodafone and Disney are set to re-invent the kid's smart watch category with the launch of 'Neo', the smart kids watch. Pre-register your interest at v.vodafone.com, available in early 2021.
Vodafone and Disney have combined their respective capabilities in technology and entertainment to produce a device combining function, style and fun. The result is Neo, the smart kids watch that will ensure parents and guardians stay connected with their children, engaging them through calls, chats, familiar characters and emojis, whilst giving kids a sense of independence as they take their first step into the digital world.

Neo is full of Vodafone technology features to empower children to discover, play and grow. A built-in forward-facing camera lets kids capture their daily adventures, while the activity tracker logs activity and sets a goal to encourage them to get on their feet. Most importantly, parents can stay connected with their children even when apart with calls, chat and video messages[2]. The Vodafone Smart App enables parents and guardians to be in full control of a child's digital experience with Neo, giving them approval of a circle of trusted contacts, managing screen time through 'Quiet Mode' and viewing the device's location. The calendar and weather features encourage children to interact with the world around them, and parents can even set events and reminders. Neo is the perfect first step for parents and children to stay connected in a fun and safe environment without access to the internet or social media.
Through Disney characters and content, kids can personalise their Neo experience by choosing their own 'sidekick' from a selection of familiar characters, including Minnie Mouse, Elsa, Buzz Lightyear, Darth Vader, the Armoured Avenger, and the Child from the recently launched and highly successful Disney+ series, The Mandalorian. Kids can switch to another character whenever they like, with a full theme takeover to match each character.  The watch will automatically update over time with additional characters and experiences at no charge.
The project to develop Neo is part of a creative collaboration between Vodafone and Disney, alongside world-renowned designer Yves Béhar and his team at fuseproject, who augment the existing talents of the Vodafone smart tech product design team with their own unique capabilities.
Neo integrates hardware designed by the Vodafone smart tech team and a software experience from world-class designers at Vodafone and Disney, marrying a customer-focused approach with the power of interactive design. Powered by best-in-class mobile connectivity and some of the most popular Disney characters, the product will deliver a truly unbeatable smartwatch experience for kids.

Neo is the latest product to join the Designed and Connected by Vodafone range, products built on Vodafone's IoT platform centrally and then deployed across multiple markets.  Powered by the Vodafone Smart App, this creates a connected ecosystem enabling multiple use cases and cross-device intelligence to create a clear and seamless customer experience that can adapt to customer needs.
Lutfu Kitapci, Managing Director, Vodafone Smart Tech comments: "As a flagship product, Neo underlines Vodafone's investment in the smart tech category. It demonstrates how we are building a platform that has the potential to drive significant value for the business, while also differentiating ourselves in this growing industry. Combining Vodafone's leading design and technology capabilities, together with the world's best-loved characters from Disney, has created an incredible product that both parents and kids will love.
"By building products with clear use cases, all controlled in one Vodafone smart app, and distributing across multiple markets, we are able to develop consistent feature capabilities deployed across devices. Our commitment to connect our customers to the most important things in their lives runs through everything we do, and what could be more important than staying in touch with our children?"
John Love, VP, Interactive Experiences at Disney Parks, Experiences and Products comments: "We are thrilled to reimagine the possibilities for kids smartwatch experiences through this exciting collaboration in a rapidly growing category. By bringing cutting edge interactive design and technology together with beloved characters from Disney, Pixar, Marvel and Star Wars, we have created a truly innovative experience for children."
Yves Béhar, founder and Principal Designer at fuseproject comments: "Designing Neo is about balancing the needs of both kids and their parents for safety, ease of use, and wearability. We've created a product that is inclusive and accessible for both children and their parents, uncompromising on user experience and coupled with a signature industrial design ID that is inviting."
Priced at £99 upfront with subscription from £7 a month