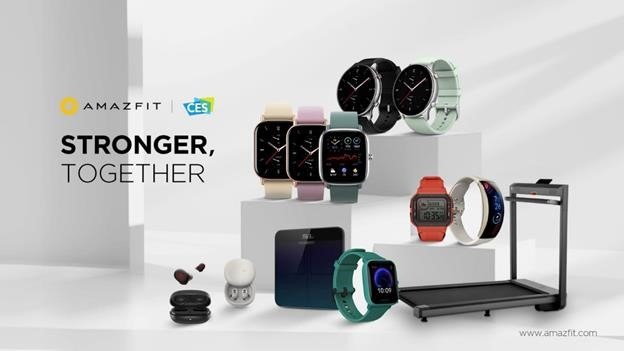 Amazfit, takes this year's all-digital CES by storm, introducing a slew of innovative products and technologies across multiple categories. With Amazfit's new product line includes the latest additions to the GTS 2 and GTR 2 Family, through the ultra-stylish Amazfit GTR 2e and GTS 2e smartwatches – which feature cutting-edge health and fitness features.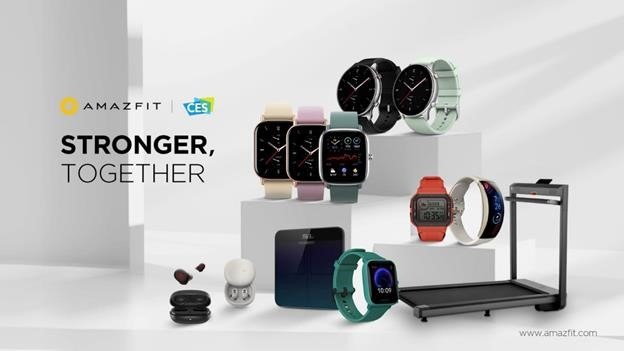 Also showcased are the super light and versatile Amazfit Bip U Series of fitness-oriented smartwatches; the retro-chic Amazfit Neo with advanced modern features; the ergonomic noise-masking Amazfit ZenBuds earbuds with curated sounds for both work and rest, along with smart real-time sleep monitoring functions; the immersive and dynamic Amazfit PowerBuds with a professional sports sound system for stunning sound; the foldable Amazfit AirRun treadmill with surround sound speakers and minimalist design; the Amazfit Smart Scale that puts holistic health data at your feet; and the futuristic Amazfit X watch with an extra-wide AMOLED high-definition 3D curved screen.
Amazfit's theme for CES 2021, "Stronger, Together", highlights the brand's unwavering commitment to offering consumers effective products and services in the wearable market, and is more relevant than ever during a global health pandemic.
Amazfit GTR 2e and GTS 2e: The Perfect Combination of Style and Health
Like all members of the Amazfit GTS 2 and GTR 2 Family, the Amazfit GTR 2e and GTS 2e are works of art on your wrist, which also deliver extra-long battery life. Exquisite craftsmanship is on full display with a borderless design that uses curved glass to create a strong and integrated visual experience. The GTS 2e boasts a 1.65-inch HD AMOLED screen with 341 PPI pixel density, making it comparable in clarity to the latest smartphones, and the GTR 2e has a large 1.39-inch high-definition AMOLED screen with 326 PPI pixel density for a clear and vivid display.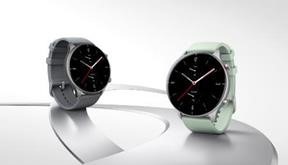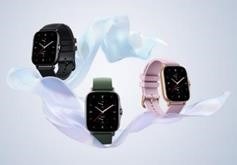 Equipped with the latest BioTracker 2 PPG high-precision optical sensor, these smartwatches can perform 24-hour heart rate monitoring and even provide warnings when your resting heart rate is abnormally elevated. They are also equipped with a blood-oxygen-level measurement function, so you can measure your blood-oxygen saturation the moment your energy starts flagging.
The Amazfit GTR 2e and GTS 2e smartwatches also support in-depth sleep quality monitoring by accurately determining sleep stages, tracking the sleep breathing condition, and providing analysis and suggestions for improvement. Featured as well, is the PAI™ (Personal Activity Intelligence) health assessment system that uses algorithms to convert complex data such as heart rate, activity duration and other health data into a single, intuitive score for users to easily understand their physical state. With this feature, the smartwatches can provide a personalized health assessment system for each user based on their unique health data.
Featuring 90 built-in sports modes to cover the needs of most sports enthusiasts, you can also perform voice operations on your Amazfit GTR 2e and GTS 2e without internet access, thanks to the offline voice control feature—including turning on sports modes or opening the heart rate monitoring function.
Representing fitness for all, the Amazfit GTR 2e and GTS 2e join the Amazfit GTS 2 mini as the newest members of the Amazfit GTS 2 and GTR 2 Family, which is headed up by the classic essential Amazfit GTR 2 and the GTS 2, where style meets health.
Amazfit Bip U Series: Your First Step into Smart Fitness
The Amazfit Bip U Series features a large, 1.43-inch colour screen so you can enjoy a bigger and clearer view of your important information. And, with 50 watch faces to choose from, you can craft and wear your lifestyle on your wrist. Additionally, the customizable watch face lets you select and display information important to you on the home screen, such as time, date, weather, heart rate, and more.

Weighing in at just 31 grams, the Amazfit Bip U Series is ultra-light and designed for all-day comfort. This smartwatch series is equipped with a newly upgraded biological optical tracking sensor, the BioTracker 2, that supports measurement of blood-oxygen saturation. The watch also supports stress level monitoring and can provide breathing exercises training to help balance your stress levels, so that you know when to take a break and relax.
Other state-of-the-art features include the PAI (Personal Activity Intelligence) health assessment system, as well as a menstrual cycle tracker that can help record menstrual and ovulation periods, and alert you before they arrive so that you can plan ahead and avoid disruptions.
The Amazfit Bip U Series provides most of the exercise data you need, on your wrist for more than 60 popular sports and activities, and when the Amazfit Bip U Series is fully-charged, you can enjoy up to nine days of health and fitness tracking with typical use.
You can also talk to Amazon Alexa on your Amazfit Bip U Pro – ask questions,  get translations, set alarms and timers, check the weather, control your smart home devices and more.
Amazfit Neo: Retro Look with Advanced Features
The Amazfit Neo features a four-sided screen, equipped with four physical buttons and a design that provides the perfect balance of style and versatile functionality, for a unique blend of retro design and modern features.

Equipped with the BioTracker PPG sensor, the Amazfit Neo can monitor your heart rate 24 hours a day, providing real-time heart rate monitoring to help you better understand your health status. The Amazfit Neo also integrates the innovative PAI Health Assessment System, which eliminates the need to track complicated data individually, and allows you to intuitively understand your physical state at a glance.
The Amazfit Neo effortlessly monitors your sleep, so you can gain a clearer understanding of your sleep patterns and stages, as well as what is needed to improve your sleep quality. The Amazfit Neo also boasts impressive battery life and power-management capabilities, so you can use it for up to four weeks on a single charge with typical use.
Amazfit ZenBuds: Fits Right So You Can Sleep Tight

Amazfit ZenBuds are smart, noise-masking earbuds which reduce distracting noises and can play soothing sounds to block out the outside world, helping you to relax, meditate, or focus on work without distraction, and fall asleep at night effortlessly. When worn to bed, these intelligent earbuds can also detect when you're asleep and automatically stop playing sounds to avoid waking you up, and the smart sleep monitoring function will analyze your sleep quality each night, helping you form healthy sleeping habits.
Amazfit PowerBuds: Dynamic Sound for Every Workout
Amazfit PowerBuds bring stunning sound to your ears through the professional sports sound system, making your workouts more immersive and dynamic. These innovative earbuds are equipped with a PPG optical sensor to precisely monitor your heart rate and keep you informed of your workout status. You also get voice notifications when your heart rate exceeds the pre-set warning value, delivering a safer and more effective experience.

Amazfit PowerBuds provide eight hours of playtime on a single charge, and coupled with the magnetic charging case, they can function for another 16 hours—meaning you can enjoy up to 24 hours of music on-the-go. Plus, the earbuds feature IP55 protection against damage caused by dust, rain and sweat, keeping you free from worry during workouts.
Amazfit AirRun: Experience the Freedom of an Outdoor Run—Inside Your Home
The Amazfit AirRun features an extra-wide running belt that puts most home treadmills to shame. At 500 millimetres in width and 1,300 millimetres in length, the running belt compares favourably with most commercial treadmills, offering a wider running space and delivering the stability and openness of outdoor running. The anti-slip and wear-resistant diamond-pattern running belt and soft rubber edge strips also provide users with more comfortable footfall and greater safety.

With quick-folding and smooth setup, the Amazfit AirRun fits perfectly in any room and can be completely folded in just five seconds, reducing about 80% of its volume, and also features two built-in JBL custom speakers for advanced sound quality and to energize your workout.
Amazfit Smart Scale: Holistic Health Data at Your Feet
With its high-precision data processing chip, the Amazfit Smart Scale provides metrics for 16 body health indicators based on the basic information you enter, to help you easily understand your overall physical condition. The Amazfit Smart Scale is equipped with a high-precision G-shaped sensor, which is sensitive enough to detect minor weight changes of up to 50 grams, meaning it can show changes in your weight even if you only drink a cup of water.

As well as measuring your heart rate and analyzing 16 of your key body health indicators, the Amazfit Smart Scale can also synchronize your data over Wi-Fi and Bluetooth to your mobile phone or the cloud for you to check anytime and can support 10 user accounts – each with up to 12 family members identifiable through the smart user recognition feature.
Amazfit X: The Future Is Now
Representing a technological breakthrough in smart wearable devices, the new standard in smartwatches has arrived. The design of the Amazfit X concept watch, featuring a button-free design with a 2.07-inch curved AMOLED display, a titanium alloy uni-body, and the self-developed BioTracker 2 PPG optical sensor, allows you to fit more of what's important to you on your wrist.

With continuous 24-hour heart rate monitoring, blood-oxygen saturation measurement, sleep quality monitoring, stress level measurement and automatic sports detection, the Amazfit X harnesses the power of a futuristic curved lithium-ion battery to keep you on top of your game for up to seven days on a single charge.
Pricing and Availability
In the UK, Amazfit GTS 2e is available at Argos from 12th January (tomorrow), priced at £119. Amazfit GTR 2e will be available at a later date to be confirmed.