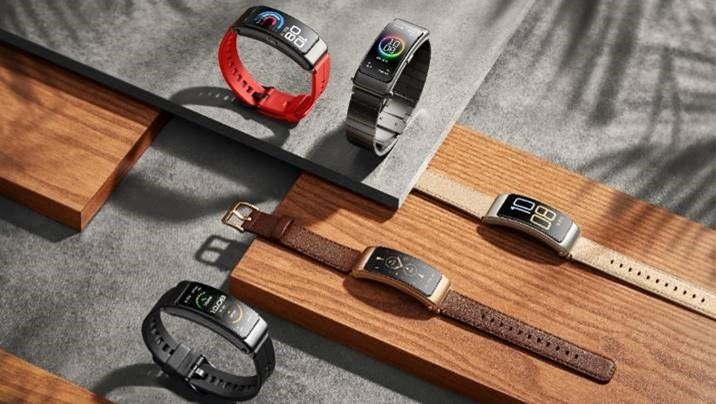 Huawei's release of the brand-new Huawei TalkBand B6 in the UK, a smart band that can double as a Bluetooth earphone; perfect for work and fitness. Housing a high definition, a 3D curved screen in a 1.53-inch long body, the new band is stylish and offers a range of rich features.
The Huawei TalkBand B6 is bolstered by the in-house Kirin A1 chipset and supports the BLE 5.2 standard, coupled with a real-time noise reduction algorithm developed by Huawei. It promises to deliver a more stable and clear calling experience. Meanwhile, as a smart band, the Huawei TalkBand B6 stays true to the health monitoring technology expected of a fitness band with an extensive range of features. These include accurate heart rate monitoring, sleep tracking, SpO2 monitoring, and stress tests, as well as nine* basic workout modes to help you monitor your health.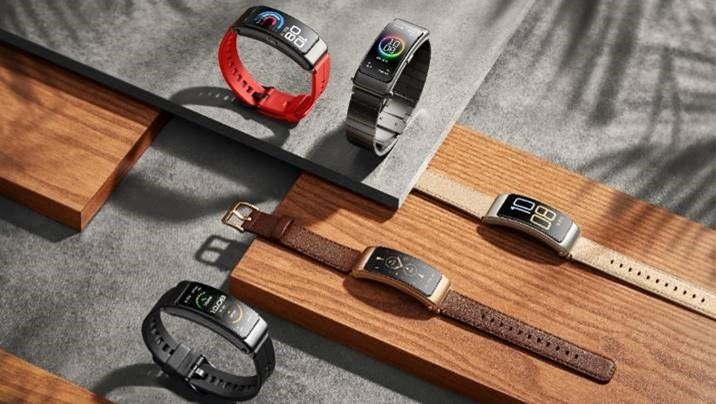 A Beauty on Your Wrist
The Huawei TalkBand B6 is a pure classic style. The dedicated craftsmanship and clean aesthetics even make it suitable to wear at formal events.
Featuring a 1.53-inch 3D curved AMOLED screen, the band is ergonomic and fits perfectly on your wrist, offering maximum comfort. Compared with the previous generation of products, this smart band takes a leap in both its screen resolution and pixel count, for a stunning display. It also comes with a wide range of watch faces.
The band also has a light sensor under the screen, allowing it to detect ambient light conditions so the band can auto-adjust the screen brightness. With a 500-nit maximum brightness, it's easy to read even in bright sunlight.
The band doubles as an earphone and boasts a streamlined and metallic body that is the result of the application of several different manufacturing techniques. The Huawei TalkBand B6 is available in five colours including Graphite Black, Coral Red, Camellia and Mocha Brown.
The Huawei B6 also easily connects with your phone, offering a multitude of smart features including smart notifications, voice assistant, and smart alarms.
Powerful Kirin A1 Chipset for High-quality Calling Experience
Press the release buttons on either side of the band to remove the band body (Bluetooth earphone) from the base, so you can easily make or take calls on the go. The Kirin A1 chipset fitted in the Huawei TalkBand B6 ensures the smoothness and stability of the band during calls. By integrating the Bluetooth processing unit and audio processing unit in a compact chipset, the Kirin A1 is able to maintain an efficient and stable connection, give robust audio processing, and run anti-interference.

To top it off, the Huawei TalkBand B6 supports the industry-leading BLE 5.2 standard, coupled with the super Bluetooth features of Huawei phones, and boasts a maximum connection range of 150 meters* in open areas so you can make and answer calls without having to be near your phone.
Moreover, the Huawei TalkBand B6 supports the new BLE channel selection algorithm, which can identify channels with more Wi-Fi channel interference and switch to a better Bluetooth channel, so you don't have to worry about the connection. Thanks to these technologies, the Huawei TalkBand B6 can provide a stable connection for smooth calling even in high-density environments such as airports and shopping malls.
The band also boasts multiple noise reduction technologies, further enhancing calling quality. It has dual-microphone noise reduction so can effectively filter out environment noise and wind noise, based on sounds picked up through the microphone.
To further enhance audio clarity and call quality, the Huawei TalkBand B6 adopts three overlaid noise reduction algorithms including Acoustic Echo Cancelling, Automatic Gain Control, and Adaptive Noise Reduction, helping to prevent backhaul and unstable audio and filter out ambient noises and ensuring a good quality on both sides of the call.
Inheriting Huawei's Wearable Gene for Professional Health Management
The Huawei TalkBand B6 inherits the core fitness and health technology of its previous generations. Fitted with the high-performance heart rate sensor and boasting three in-house technologies including Huawei TruSeen 3.5 heart rate monitoring technique, TruSleep 2.0 sleep tracking, and TruRelax stress test technology, it provides comprehensive and real-time heart rate, sleep and stress level data, for better health insights.
The band offers another helpful feature, SpO2, which monitors blood oxygen saturation, which can give some useful indications about the condition of your respiratory system. While the  SpO2 level should stay stable most of the time, variations can indicate if you need to rest or could potentially indicate a more serious health issue.
As for workouts, the HUAWEI TalkBand B6 can automatically detect if you are exercising and automatically supports nine common workouts, including outdoor run, indoor run, outdoor walk, indoor walk, outdoor cycle, indoor cycle, rowing machine, elliptical trainer and others. During workouts, it measures your heart rate in real-time and issues an alert if the heart rate rises above a set limit. After the workouts, you can get professional and evaluation including VO2Max, recovery time, and training effects.

Since the launch of the Huawei TalkBand B series in 2014, Huawei has been working to make this band not only a function for your fitness life but to also meet the needs of those who need to make calls on the go. These efforts have been showcased in the previous five-generations of the TalkBand range and the latest addition keeps up this momentum of innovation.
The HUAWEI TalkBand B6 will go on sale on the Huawei Store from today, and with selected retailers in September.
Price info:
Graphite Black & Coral Red –  £179.99
Camellia & Mocha Brown –  £199.99
Titanium Grey – £219.99