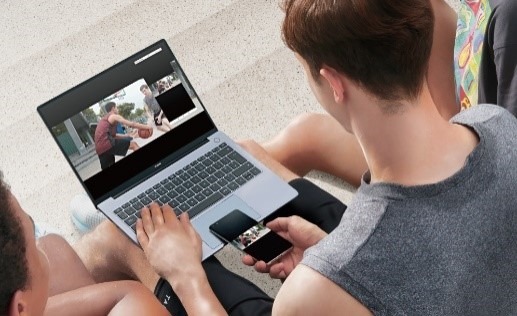 From stylish headphones to 'insta-worthy' laptops, and gadgets that can instantly make photo editing a doddle, with London Fashion Week underway, Huawei has revealed its pick of Huawei line of stylish gadgets and must-have Apps available in the Huawei AppGallery to take you through fashion week and beyond.
MateBook X Pro 2020, Emerald Green
Make a style statement with the MateBook X Pro 2020 in striking Emerald Green. Combining everything you need for work and life, the elegant and powerful Huawei MateBook X Pro 2020 delivers extreme portability, a premium FullView display, cutting-edge performance, and smart connectivity.

It delivers a smooth experience in every scenario from graphics and video editing to multi-file operations and multimedia content consumption, and the stunning design complements any style.
The Huawei MateBook X Pro 2020 is also available in Space Grey.
Prices start at £1,499.99 from the Huawei Store and selected retailers.
Purchase now to receive a stylish trio of accessories – Huawei MateBook backpack, Bluetooth mouse swift and Huawei leather case. Offer is valid whilst stocks last.
Huawei P40 Pro+
Bringing you the most professional smartphone camera system ever, industry-leading 5G performance and sleek design, the P40 Pro+ is the perfect accessory to allow you to capture street style shots and stunning Instagram content like a pro photographer.

The Ultra Vision Leica Penta Camera found on the Huawei P40 Pro+ allows the camera to take in the optimum amount of light when capturing photos both during the day and night, proving great for photography around the clock. The extra-large screen and 100x zoom will mean your pictures will look even more striking.
The Huawei P40 Pro+ is available in two colours, White Ceramic and Black Ceramic.
£1299.99 from the Huawei Store and selected retailers
Buy it now to receive a free Huawei Watch GT 2 and a supercharge wireless charging stand. This offer is valid until stocks last.
MatePad Pro
The Huawei MatePad Pro is compact enough to fit in your handbag and light enough to travel everywhere. It is also the world's first tablet to support wireless charging and reverse wireless charging, so you'll never miss a fashion show or the latest fashion news.

Perfect for taking down top tips from fashion designers, the Huawei MatePad Pro supports the Huawei M-Pencil to deliver a natural and intuitive writing experience. If handwriting notes is not for you, the Huawei MatePad Pro also comes with a Smart Magnetic Keyboard that can be easily connected via Bluetooth. It also boasts a Shift key that doubles as a toggle for Huawei Share, providing quick access to the Multi-screen Collaboration feature for working on projects with others.
Now £499.99 from the Huawei Store and selected retailers
Buy it now to receive a free Huawei MatePad Keyboard and a Huawei MatePad M-Pen. Offer valid until stocks last.
Watch GT 2
Having a smartwatch that looks the part but also keeps you up to speed with notifications is a handy piece of tech to have when you're on the move.
Inspired with style and minimalism in mind, the Huawei Watch GT 2 integrates a high-quality 3D glass watch face. It demonstrates fine craftsmanship throughout, not only in technology but also design, with a shape and style that suits all tastes and needs – whether you're after something sporty, classic or elegant.

The Huawei Watch GT 2 is available in two sizes 42mm and 46mm depending on the colour. Available in Refined Gold, Lake Cyan, Night Black, Gravel Beige, Titanium Grey, Sunset Orange, Matte Black and Pebble Brown.
From £139.99 from the Huawei Store and selected retailers. Buy it now and you will get a free Huawei mini speaker. This offer is valid while stocks last.
FreeBuds Pro
The new Huawei FreeBuds Pro's distinctive square-shaped stem is sleek and stylish, available in three spectacular colours Carbon Black, Ceramic White and Silver Frost, they are bound to complement any outfit.

As the world's first intelligent dynamic noise-cancelling earphones boasting up to 40dB, the Huawei FreeBuds Pro are ideal for when you want to catch up on your favourite fashion news podcast and documentaries.
Enhancing this further, the dual microphones positioned inside and outside the earbuds can quickly identify your surrounding noise environment and automatically switch between three noise cancellation modes – Ultra Mode, Cosy Mode and General Mode – to effectively cut out environmental noise.
From £169.99 from the Huawei Store and selected retailers from the 5th October. Customers purchasing on or before 20th October can also claim a free Huawei Band 4 Pro.
MateBook 14 2021
The perfect accessory to immerse yourself in the world of online fashion, the new ultra-slim MateBook 14 2021 has a stunning FullView display with 90% screen-to-body ratio, delivering an immersive visual experience at no expense of portability.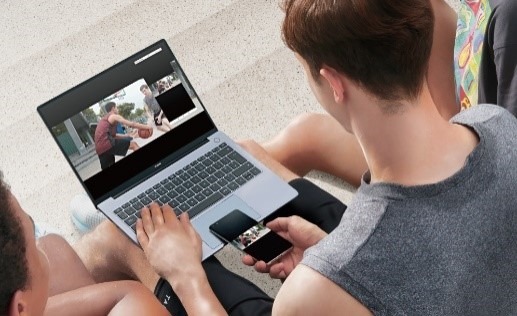 The Huawei MateBook 14 2021 supports multi-touch gestures for quick screenshots, you can also seamlessly control your smartphone through the PC and transfer files between each other for ease, meaning you can easily upload any fashion shots you take on the go from your phone to your laptop. You can also enable the performance mode, which pushes the processor up to 40W, giving users the extra power for more demanding tasks such as bulk image editing.
Available from £749.99 from the Huawei Store and selected retailers from 5th October 2020. Pre-order before 20th October to claim a free Huawei MatePad 10.4 (32GB, plus keyboard).
Watch GT 2 Pro
The latest addition to Huawei's award-winning Watch GT 2 Series, the Huawei Watch GT 2 Pro.
With over 200 watch face options to choose from, the customisable feature is ideal for matching your watch to your outfit. The Huawei Share OneHop watch face also lets you simply tap your Huawei Watch GT 2 Pro to your smartphone to transfer images from your photo gallery, allowing you to truly personalise the watch face whatever the occasion.

The rugged yet premium design comes in two variations, the sports edition in Night Black and classic edition in Nebula Grey. It includes advanced sports tracking, professional health monitoring, two-week battery life and wireless charging, the new Huawei Watch GT 2 Pro is set to be a big hit with the fashion-conscious, fitness fanatics and casual users alike.
Available from £299.99 from the Huawei Store and selected retailers from 5th October.
AppGallery
Keep up with the latest fashion trends on Huawei's AppGallery including John Lewis, Zara, and Depop or save some money using banking apps such as Curve for items that you need a few extra pounds for.
Huawei AppGallery is the official app distribution platform for Huawei smartphones and tablets and is the third-largest app marketplace in the world. Available in more than 170 countries, users can easily and securely discover, find and download thousands of apps from around the world. There are currently over 81,000 apps and with new apps joining daily.