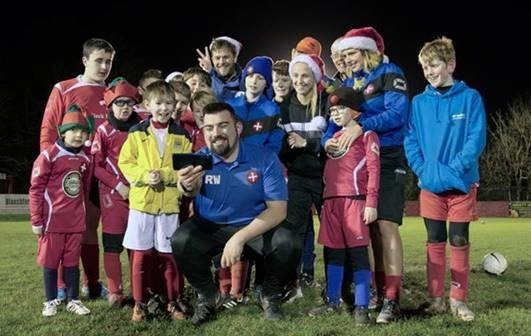 Unsuspecting fans were in for a treat as England Lioness and Arsenal footballer Beth Mead teamed up with global smartphone brand HONOR #InspireXtraordinary to give up and coming young footballers a festive surprise, just in time for Christmas.
The talented England international is going from strength to strength this season, scoring an impressive 33 goals in her 76 appearances for Arsenal since joining from Sunderland in January 2017 and recently signing a new long-term deal with the Arsenal Women squad.
To celebrate the launch of the new HONOR 9X smartphone, members of the Princes Risborough pan-disability junior football club were invited to a smartphone masterclass with visually impaired YouTuber and team coach Ricky West to learn more about the accessibility features on the new 9X smartphone including PocketVision, an app which makes it easier for partially sighted people to read day to day text more clearly.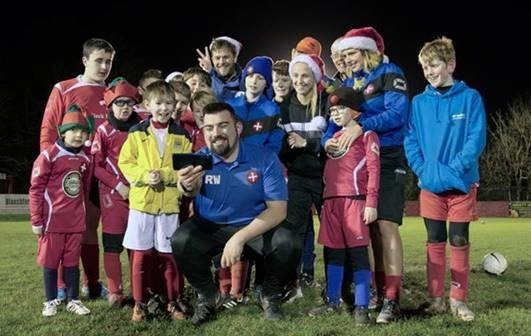 Managed by Melanie Timberlake, UK Coaching Disability Coach of the Year 2018, the Risborough Rangers pan-disability junior club has been running for boys and girls aged 4 through to 16 since 2014 and aims to make football accessible to all, regardless of ability. The teamwork with children of all abilities to bring the fun and enjoyment of football to everyone.
What the team didn't realise, was Beth was waiting in the wings to surprise the aspiring young stars in person and give them some helpful hints and tips on what it takes to become a professional athlete.
Commenting on the day's events, Beth said: "I'm delighted to have joined forces with HONOR today to meet these budding young stars, especially as I am such a huge advocate of football being a sport for everyone, regardless of your ability. As a female player, I'm grateful to those who have fought to get women's football to where it is today and believe this opportunity should be extended to anyone who is passionate about the game."
"Whether it's in sports or our daily lives, it's time to tear down misconceptions about disability and build a more inclusive society and it's been amazing to see first-hand how innovative technology is being used to empower people and enabling them to lead more confident and independent lives. Sport is a brilliant platform to help young people build up their confidence as well as their leadership and communication skills and with accessible technology such as PocketVision on the HONOR 9X, these young athletes can go one step further and practice these skills off the pitch in their everyday life."
https://youtu.be/eze9E9KGfis
Melanie added: "Today has been a real festive treat for the kids. It was great to see the smile on their faces when Beth arrived – it's not every day you get to meet a Lioness! As a champion of inclusivity in sport, Beth is a fantastic role model for the team and we can't wait to get back on the pitch and play some more great football next year."
Launched on the HONOR 20 series earlier this year, PocketVision harnesses superior camera technology to deliver a portable, affordable alternative to other magnifiers and type scopes currently on the market. The app has been optimised for the new HONOR 9X, featuring three key modes to create an enhanced reading experience:
Text-to-Speech Mode; this mode helps to convert pictures to text faster and more accurately. It then narrates the text from books, documents, menus and more with ease.
Zoom-In Mode; leveraging the HONOR 9X's 48MP triple camera lens for ultra-clarity, this mode allows users to zoom into text using the volume buttons on their device, making even the smallest type larger, less blurry and more legible
Negative Image Mode; providing a range of colour filters to enhance the text, this mode improves the contrast of printed materials for people who struggle to see certain colours
"We truly believe that anything is possible if you put your mind to it and it's great to see cutting edge technology like PocketVision on the new HONOR 9X inspiring young people of all abilities and giving them the confidence to unlock their potential and pursue their passions," said Bond Zhang, UK Country Manager at HONOR "At HONOR, we are committed to promoting inclusivity through the power of technology, regardless of age, race, gender or ability and will continue to develop innovative technology that excites, inspires and empowers people around the world."
Kitted out with a 48 MP camera, a 16 MP pop up camera and a stunning 6.59" full view screen, the HONOR 9X is the ultimate affordable all-rounder smartphone. For more information, visit www.hihonor.com/uk.
Why not follow the conversation on social #InspireXtraordinary