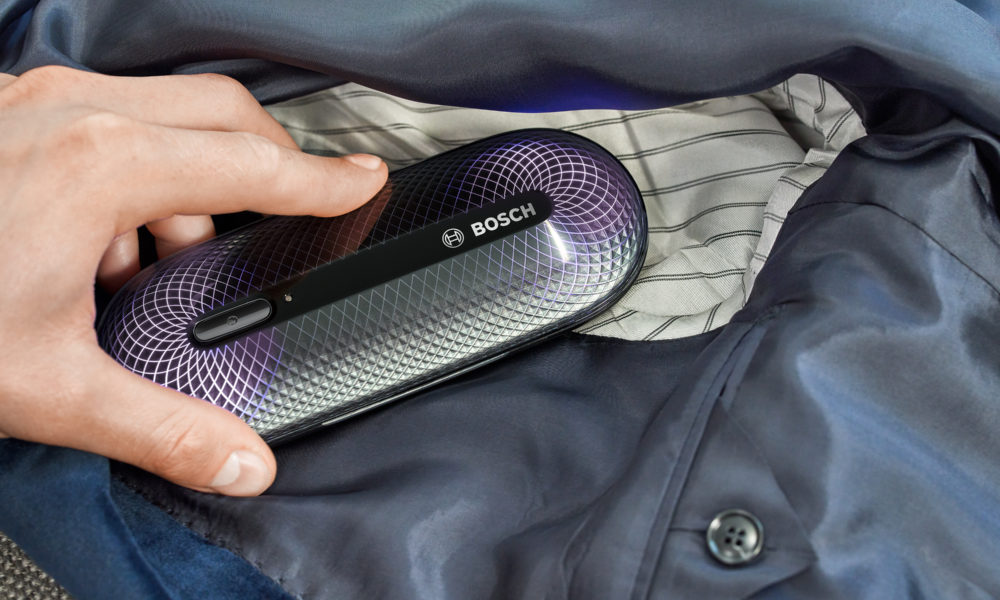 Bosch has created a handheld electronic device that dissolves odours from fabrics, refreshing them instantly without the need for water, solvents or detergents. A truly pioneering product, the FreshUp harnesses the power of plasma to break down odour molecules when it is run over clothes.
The FreshUp is a revolutionary way of freshening up clothes, without the time, money and effort that goes into dry-cleaning and laundry. It can be used on the go or at home, eliminating the 'chair-drobe' – the clothes that build up on the back of a chair, having been worn once or twice, and are in need of refreshing.
The plasma in the FreshUp dissolves the bonds between odour molecules, breaking them down, unlike sprays which merely mask smells. Even tough odours such as cigarette smoke and body odour are removed, leaving clothes as if they have been hung outside to dry.
As it uses plasma to dissolve odours rather than putting clothes through harsh cleaning processes which can shrink, tear, or discolour fabrics, the FreshUp is completely safe to use. This includes delicate materials such as silk, cashmere and wool, as well as items that normally require extra care, such as vintage pieces or dry-clean-only items, with no risk of damaging clothes.
Lightweight and simple to use, the FreshUp is perfect for on-the-go and travelling. It can fit easily into a handbag and it is rechargeable with a standard micro-USB charger, with each charge lasting up to 60 minutes. It requires no additional maintenance or cleaning substances to work – simply keep it in its case until it is needed. It can even be used on clothes while they are being worn.
Lucy Bye, Group Marketing Manager at Bosch says of the new product: "The launch of the FreshUp is a momentous occasion for Bosch. We spend years working hard to develop innovative products that help make people's lives easier, whether that's by saving time, money or effort – and the FreshUp does all three. We're incredibly proud of the achievement and look forward to seeing how our customers react to the FreshUp."
With over a century of innovation behind them, Bosch are the engineers who aim to make everyday life easier. The FreshUp is developed and made with the high quality and reliability that Bosch is known for. With this newest invention, Bosch is defining a whole new category in the household sector.
The FreshUp will be available in the UK from 29th June for £249.99.