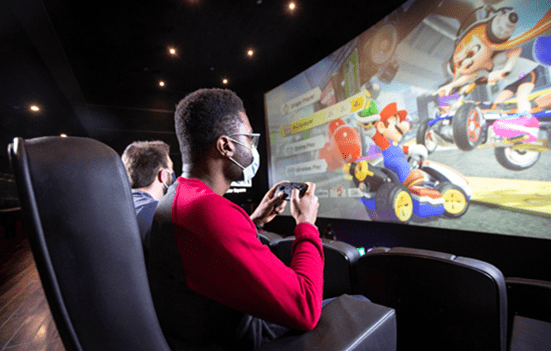 Lockdown saw an increase of two-thirds of Brits flock to the world of video gaming and according to Cineworld, the UK's leading cinema chain, gamers are looking for more immersive ways to experience their favourite games with friends and family as they emerge from lockdown.
In response to this reignited passion for gaming and appetite for new experiences, Cineworld is encouraging gamers to assemble their teams and enjoy the latest gaming releases or cult classics in the most immersive way, through their private screen hire offering. Available across 100 Cineworld cinemas from today, gamers can experience state-of-the-art projection and high-quality immersive sound, in a covid safe environment, that'll bring to life the gaming experience like never before.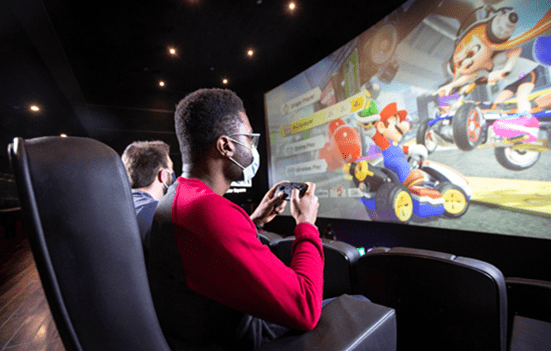 Phil Faversham, Senior Conference and Events Manager at Cineworld say; ''We've seen a surge in demand from gamers looking to privately hire our screening rooms as they seek out opportunities beyond the small screen to experience their favourite games. Across the UK, we offer gamers a truly unique and immersive experience through access to the best technology and the latest games offering, and of course access to cinema snack favourites. It's a safe and affordable way to enjoy a shared experience with family and friends, all from the comfort of your own private cinema screen."
There's nothing quite as breath-taking as playing your favourite game in your very own private cinema screen, and with this offering, guests can hire out a range of consoles and games, and play all the latest game releases. From Hollywood blockbuster to popular gaming adaption, Spider-Man: Miles Morales is sure to get gamers tingling with excitement, whilst FIFA 21 will get your family and friends up on their feet to cheer and support you as you clinch that all-important winning goal. You can even play the latest version of classic favourite Mario Kart and introduce some friendly rivalry amongst your family and friends during your gaming session.
Prices start from £119 for a party of 20, including screen hire for 2 hours. Sweet and Salted Popcorn (90g) and choice of pre-packaged drink can also be added for an extra £4.95 per person. Everything you need to keep you fuelled and refreshed during your gaming session.
For more information on the private screen hire for gaming offering at Cineworld, as well as how to book tickets, please visit the website here: https://www.cineworld.co.uk/static/en/uk/venue-hire-events/gaming
Cineworld also offers guests the chance to reserve their own private screening rooms to watch the latest movie releases with friends and family. Prices start from £119 and facilitate up to 20 guests. More information can be found on the website here: https://www.cineworld.co.uk/static/en/uk/venue-hire-events/film-screenings