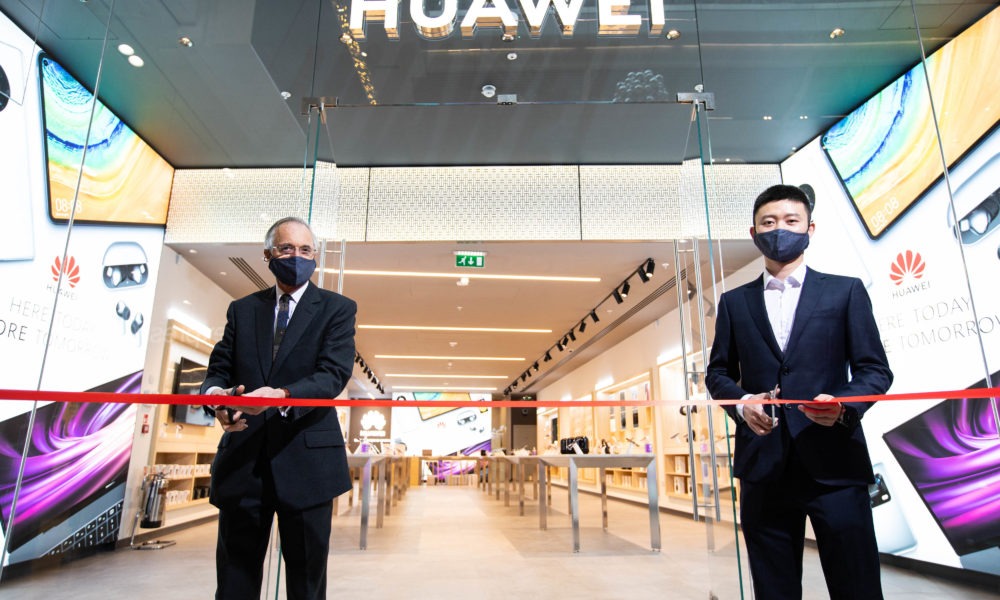 As Huawei enters its 20th year operating in the UK, it today unveils its first retail store in the UK.  Located in Westfield Stratford City, East London, the store's opening sees the arrival of Huawei on the British high street, making its wide range of technology and lifestyle products more accessible to local customers.
The store opening is a seminal moment for Huawei and is driven by the company's ongoing commitment to the UK marketplace, and it's five million (and growing) local customer base. In the store, shoppers can get hands-on customer service and experience brand-new technology from Huawei's extensive range of audio, wearable, PC, tablet and smartphone products. Customers can try devices, as well as explore how Huawei's suite of products can seamlessly interact with each other for a fully connected experience. The store also stocks home and lifestyle products from Huawei partners, as a demonstration of the company's commitment to delivering a Seamless AI Life, through its 1 + 8 + N strategy*.
The new store is the first of three planned for the UK market, showcasing Huawei's long-term commitment to the British high street and the economy, to which Huawei has contributed £3.3bn GDP overall. Huawei's new Westfield Stratford City store will provide up to 15 new jobs for local residents as part of the 51,000 jobs supported by Huawei in the UK, as well as acting as a key support hub to Huawei's customers (alongside the Huawei Service Centre that opened in Wembley last year).
Anson Zhang, CEO, Huawei Consumer Business Group, says: "We've seen great success with the Huawei online store, and are looking forward to further supporting our millions of UK customers with a physical store in one of the UK's largest shopping centres, Westfield Stratford City.
The UK is a hugely important market for us, and we're pleased to be able to offer customers the opportunity to pick up new technology in-store, in addition to a superior customer service experience. As well as being a key milestone for Huawei in the UK, we're excited that this will open up more jobs to Stratford residents and help support the British economy."
The UK store opening follows recent flagship store openings in Madrid in July 2019, Barcelona in February 2020, Paris in March 2020 and the second global flagship store which opened in Shanghai in June 2020.
In addition to providing an opportunity to explore the Huawei product range, the store provides Huawei users with product training and technical support as well as a personalised consultation service, to troubleshoot any product queries and help customers better their understanding of the latest technologies in Huawei's ecosystem; in particular, it's wearable technology (where the company has recently taken the world one number slot, audio innovations and award-winning range of laptops.
Sir Andrew Cahn, Director, Huawei Technologies, added, "2020 has been a difficult year for all of us, not least the UK high street. Huawei has faced its own challenges in the UK, but we remain as committed as ever to serving the UK market and in particular our legions of customers who enjoy our retail products. This wonderful new store, and the opportunities it creates, is a great sign of that commitment, our faith in Westfield and business in the UK as a whole."
Alyson Hodkinson, General Manager, Westfield Stratford City, said: "We are delighted to partner with Huawei to help them launch their first-ever UK retail store at Westfield Stratford City and bring their innovative and cutting-edge products to shoppers. During these challenging times, we continue to support retailers in helping them reach new audiences whilst providing our visitors with new offerings and exclusive experiences as they shop."